Primera División
Marcelo: Real Madrid feel like we're sinking
Real Madrid defender Marcelo has said that the players feel like they are "sinking" as the club were subjected to yet another poor result at the weekend, a 1-0 loss to Villarreal.
The aptly nicknamed Yellow Submarine snatched all three points on Saturday through a late strike from Pablo Fornals, moving Javi Calleja's side to just one point behind Los Blancos courtesy of their first ever win at the Santiago Bernabeu.
It was not for a lack of trying on Madrid's part, however, with the hosts having registered 28 shots – a record for a Liga side this season – while Cristiano Ronaldo had a free-kick turned onto the woodwork.
Left-back Marcelo was left understandably frustrated with the result, which leaves his side 16 points adrift of Liga leaders Barcelona, telling reporters after the game: "It's one of the worst situations I've experienced here.
"We're trying to play good football, move the ball around and score goals, but it's not coming off.
"It's how it looks from the outside – we're sad, angry and we feel like we're sinking."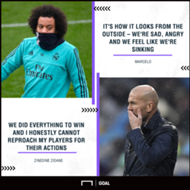 Under-fire boss Zinedine Zidane was also at a loss for words after originally describing the situation as "f***** up", insisting that he had no explanation as to why the Spanish champions could not find the net.
"We don't deserve this, we think we played well but the ball just didn't want to go in for us. I can't explain why," the Frenchman said.
"It was a hammer blow but we are going to turn things around on Thursday [against Leganes in the Copa del Rey].
"It might be a mental aspect that is stopping us from winning. When we are on a bad run there are always negatives to pick up on.
"We shot on target but didn't score, when there were rebounds we were not on the end of them. This can wear you down mentally.
"We did everything possible to win and I honestly cannot reproach my players for their actions. I am not happy but nor do I feel beaten."