Liverpool
Klopp feeling 'massively rubbish' about Liverpool mistakes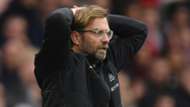 Jurgen Klopp admits he is feeling "massively rubbish" after seeing mistakes cost Liverpool in a 2-1 defeat to arch-rivals Manchester United.
The Reds headed to Old Trafford in confident mood and perched just two points behind their old adversaries in the Premier League table.
They were, however, to end the weekend five points adrift of the Red Devils and down in fourth spot after being put to the sword by a deadly double from Marcus Rashford.
Klopp concedes that his side made life difficult for themselves in a heavyweight encounter, with the fall-out from a disappointing defeat frustrating all concerned.
He told Liverpool's official website: "It's really difficult to take. The mistakes were obvious - around the second balls we were not there and we cannot leave Dejan alone in the challenge there and nobody's around for the second ball. It doesn't work like this.
"Romelu Lukaku is strong in these challenges, so if you cannot avoid the long ball then you have to be there to help your mate for the second ball. We didn't, so that was the problem around the two goals [and] they could use these situations.
"Before the two goals, after the two goals, I thought we were dominant. We don't ignore the goals we conceded, but if you ignore them for a second you would say, 'OK, that's how you have to play'. 
"Don't take too much risk, you pass, you come around the touchline, you have the crosses, you have the set-pieces, you have the finishes from distance, 18 yards, all these things. We had these things in pretty much all moments, but we didn't score. 
"Because we put pressure on ourselves obviously, that is not helpful for your confidence if you are 2-0 down at Manchester. So we passed, crossed a few balls that were not too good but [then] we found our way back on track minute by minute and second half we chased the game really.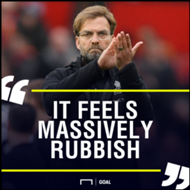 "I think we deserved the goal and then it was the situation with the best piece of football in the whole game, the one-two between Roberto and Sadio and a clear foul and no penalty. That's hard, but not to change anymore. 
"I think with all the minutes around the two goals we conceded then a draw would have been deserved for us, but because we made these two mistakes we have to take the result like it is. 
"It feels massively rubbish and that's not nice. We will carry on, of course, but in the moment it's a big disappointment."
Liverpool will have had a week to get over that disappointment by the time they take to the field again, with Watford due at Anfield for their next outing on Saturday.