Arsenal
Wenger pays glowing tribute to 'massive player' Gerrard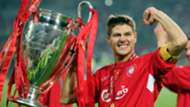 Arsene Wenger has hailed Steven Gerrard as a "massive player" after the former Liverpool midfielder announced his retirement on Thursday.
Riise destroys Diouf after Gerrard jibe
Gerrard, 36, spent two years with the Los Angeles Galaxy after establishing himself as one of Liverpool's greatest players of all time across 17 seasons at Anfield.
He made over 700 appearances in all competitions with the Reds, scoring the fifth-most goals (186) in club history and winning the FA Cup, League Cup, Champions League and UEFA Cup as well as a host of individual awards.
Arsenal boss Wenger described Gerrard as a complete midfielder and expressed admiration for his loyalty to Liverpool despite attracting interest from other clubs throughout his career.
"Overall, you can just salute the fantastic player, who has shown... I think he had the qualities that every midfielder dreams to have," Wenger told reporters.
"He could score goals, he could cross the field, he could shoot from distance, he could cross the ball, he could dribble. He had pace, he had commitment, motivation - it's a massive player, Steven Gerrard.
Conte responds to William-Man Utd links
"And on top of that, he was loyal to Liverpool, so that's a quality that you don't find a lot nowadays."