Arsenal
Why it is evolution and not revolution taking place under Emery at Arsenal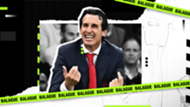 After a shaky start to the new Premier League season, six league wins on the bounce for Unai Emery's Arsenal have prompted comments about a revolution taking place at the Emirates.
The opening defeats at home to Manchester City (0-2) and away to Chelsea (2-3) are now a distant memory for a Gunners side that seems to be heading in the right direction.
However, the narrative being created that Emery is a man who has come in and turned everything on its head could not be further from the truth.
The dividing line between success and failure in football can be cruelly thin. Emery and his staff know that as well as anyone, having arrived into a situation of uncertainty following the departure of long-serving manager Arsene Wenger.
They will also know that most of the last six league matches they have played and won have been fiercely competitive and could certainly have gone either way.
What has changed is that this is now an Arsenal side that are clearly up for the fight and one that will battle to the very end to try to make the most of the chances that come their way. Under Wenger, Arsenal had style. Under Emery, they are showing signs of adding some much needed steel to go with it.
Their hard-fought victory over Watford with two goals in the last 10 minutes was a perfect case in point, as was their 3-2 away win in Cardiff thanks to Alexandre Lacazette's 81st-minute winner.
So, which players have made the difference? There have been many 'pretenders' to the throne of Patrick Vieira and the latest one is the 22-year-old Uruguayan, Lucas Torreira, who could very well turn out to be worthy of comparison with the great Frenchman.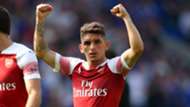 In Pierre-Emerick Aubameyang and Lacazette, Emery has two potentially lethal strikers that still have a way to go in learning how to play together. The plan is to complement the work of all of these players.
Keeping everyone happy at a Premier League football club can be harder than juggling jelly but Emery might have cause to be grateful to the FA Cup and the physically demanding Europa League to help him achieve just that.
The lack of games over the first month of the campaign made it difficult to give minutes to everyone through rotation and this can lead to player frustration. But that has now changed as cup and European commitments begin to kick in.
Arsenal have taken a huge gamble by handing Mesut Ozil a contract extension until 2021 which, at around £350,000 a week, will make him the highest paid player in Arsenal's history. Now, they will want to see a return on their investment, but they should benefit from the German's international retirement in this regard.
It is time for Ozil to step up to the plate. He has made some good gestures. It was his decision to return early from his holidays and he asked to be one of Arsenal's captains, as well as requesting the No.10 shirt. But he still needs to give more both in training and in games.
So, where might Arsenal come up short under Emery?
It's in defence where they might struggle because Arsenal's centre-back combination is probably not one best equipped to play out from the back. Perhaps Arsenal are also missing a left-footed centre back that can help with this.
And most importantly perhaps, while Arsenal have many very fine players they currently lack a match-defining star who can win games on his own. Arsenal do not possess a Eden Hazard or Mo Salah.
If Arsenal are to achieve real success it will be gained by the collective effort rather than via individual brilliance; by attacking in a way that opens up the spaces and then allows the like of Aubameyang and Lacazette to take full advantage.
Recently, Emery went to watch Watford against Crystal Palace and he sat with England coach Steve Holland. While chatting with him, he remarked that this was a game where neither side ever seemed to be in control.
Holland responded by saying that, in his opinion – apart from matches involving the top six – that was generally the case in the Premier League. But, as a coach, Emery wants to control the game and that is what will govern the way Arsenal are set out this season.
Emery's Arsenal is also very much a 'work in progress'. At the Watford game, he couldn't help but notice how the Hornets started to attack far more towards the end where their fans were behind the goal. He took note of that.
He has also emphasised how important it is for a coach to be aware about the history and traditions of the club where he is working because every so often those at a club will cite it as a reference point as to how they should play.
Under Wenger, Arsenal's blueprint was clearly about dominating through possession of the ball. This is something Emery has done previously with Paris Saint-Germain and it is how he believes top teams should play. At Sevilla, especially at home, he wanted to dominate games and he is determined to do it home and away at Arsenal.
But what he is doing at the London club is very far from being a revolution – even if there have been some changes.
Players' diets have been addressed and they now have to eat after training sessions. There is an extra use of videos with a view to aiding the creation of those 'automatisms' demanded of his players; an instinctive way of playing or effectively the ability to learn to do things as a natural instinct rather than via a thought-out process.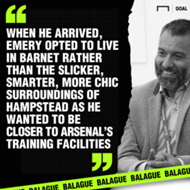 The precocious young talent that is Emile Smith Rowe is a perfect example of what Emery is trying to do. He regards Emile as a huge prospect and spent a lot of time recently with him, telling him the best way of timing his arrival into the box in order to create maximum effect. That is how he scored against Qarabag in the Europa League recently.
After each game, Emery analyses the match and looks at where improvements have to be made. He creates training sessions based on that, and then for the two days prior to a game focuses on concentrating on the rival.
And what about Aaron Ramsey's contract situation?
As things stand, the Welshman is in the last year of his deal with the club and one gets the feeling that – as with Alexis Sanchez last season – maybe the club should have addressed this matter earlier. Certainly, Emery is not to blame for this impasse as it is a club issue.
The manager's only real obsession is to get the best performances out of everyone at the club. And what is most encouraging is that when brought on from the substitutes' bench Ramsey has shown nothing less than 100 per cent commitment for the cause.
When he arrived in England, Emery opted to live in Barnet rather than the slicker, smarter, more chic surroundings of Hampstead. The simple reason for this is that he wanted to be as close to Arsenal's training facilities as possible. From Hampstead, the trip to work would have taken from 40 minutes to an hour and a half!
Attention to such small details can make the difference when chasing success. One thing is certain, however, if the glory days are to return to Arsenal under Emery then it will be the result of evolution not revolution.