Premier League
Why does Guardiola get the leeway that's denied to Wenger?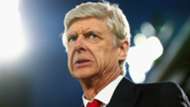 ---
COMMENT
---
Andy Warhol said that in the future everyone would be famous for 15 minutes and that's quite enough now from Arsenal Fan TV and the hostility they've wrought.
Pep has failed to live up to City hype
These self-promoters are performing on demand — distorting all perspective on the single most important individual in Arsenal's history. And it's catching; it's become a meme in itself.
Turn on the television and tune it to WrestleMania, the London Marathon, an Antarctic exploration mission and there will be some try-hard with a pitiful #WengerOut banner late to the joke.
The disrespect that flows towards Arsene Wenger — from the stands, from the streets, from airplanes over stadiums — stems directly from that fan channel. Opinions on there are not only endured but actively sought.
It makes for compelling viewing. Fans of all clubs now tune in as a matter of course after a bad result to watch Arsenal's fans run their own team's noses in it.
The louder and more hysterical the response, the more people will be tempted to watch. The more eyes that are on the channel, the better it is for the owners. And what the hordes hear on there, they repeat verbatim. There is only one opinion worth shouting round here: #WengerOut.
Sunday's FA Cup semi-final victory was a timely rebuke then to Wenger's detractors.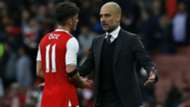 "It was a big test for us today," Wenger said. "A mental test because many people questioned if we can turn up in an occasion like that. That's why I'm very proud for the players.
"We have gone through a very difficult period and we faced some adversity that made the situation more difficult, from inside as well. We have shown a united response, not a divided response. Mentally we were in a fragile position."
Arsenal and the Manchester City they beat had experienced pretty similar seasons up to Sunday afternoon, but a stupefying lack of perspective obscures an accurate comparison. Both were knocked out of the Champions League at the round of 16 stage, for example, and are under-performing in terms of a sustained Premier League title run.
City would rather sink the players, the staff, the fans, the stadium and anything else you'd care to mention and leave only Guardiola intact if it came to starting again. The opposite is true at Arsenal, where the loudmouths blame Wenger for anything and everything.
The general sentiment appears to be that Guardiola is new to the league — he's going to need some time to adapt, but Wenger's been here 20 years and he should know better.
Wenger continues future mind games
Pep has indeed had to get used to things pretty quickly. He has been taken aback by the intensity in the English game and that has meant compromising on his ideals of football perfection. For the first time in his managerial life he'll end the season without a trophy, and yesterday's man Wenger did a job on him to keep Arsenal within a shout of one.
City have been gearing up for Pep's arrival ever since Ferran Soriano and Txiki Begiristain first pitched up at the Etihad around five years ago. It's not like Pep was parachuted into the job mid-season and told to fight fires like Hull City's Marco Silva — who pound-for-pound has done a better job than him. He gave six months' notice.  
And here he is, involved in the same old top-four dog fight that occupied Manuel Pellegrini last season. He has overseen a regression of City's Champions League form, too.
There have been high-profile disputes with bona fide City legends like Joe Hart and Yaya Toure. He's even taken the step to drop Sergio Aguero — surely the best centre-forward the club has ever had and, like Hart and Toure, a veteran of two league title wins. In all those disputes the fans — for the most part — took Guardiola's side.
Contrast those reactions to what happened at Arsenal when Wenger dared to drop Alexis Sanchez at Liverpool. The Chile striker downed tools in training and openly disrespected his team-mates on the field, and yet Wenger was made out to be the one at fault.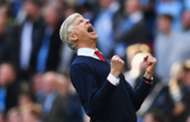 Guardiola was the one who began introducing tactical concepts that his players couldn't or wouldn't deal with. Nonetheless, he gets the credit for trying — the players blamed for their lack of adaptability, their technical ability or lack of intelligence. They are not where they should be at this stage of the season and Guardiola has plenty to answer for.
Meanwhile, it's Wenger who carries the can when Sanchez strops, when Mesut Ozil goes missing or when Theo Walcott lets him down again.
And yet somehow Arsenal can move within four points of City by winning their game in hand. City have to play the Manchester derby against a strong and improving United this week, meaning very soon we could be looking at a one-point gap between these two sides.
This is the conclusion of a decent year's work for a man who has been working against so many forces trying to undermine him.
Three FA Cup finals in four seasons, 19 years of unbroken Champions League qualification, the new stadium, the titles and the good times, and now this wholesome victory against the hottest manager in the world.
Don't expect too much praise on the fan channel. They are Arsenal fans but need a crisis to attract attention. The more Wenger wins, the less they'll have to say.