I-League
Who are Mumbai FC's players of the season?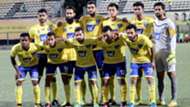 The I-League 2016/17 has brought its fair share of ups and downs for all teams. For one, however, it'll be nothing less than dejected. 
The landscape will look a deeper shade of amber for Mumbai FC, who were relegated to the second division of India's football pyramid after failing to secure the necessary points in the campaign. Finishing bottom of the table, a fabled tale of discontent, dissolution and disorder wreaked havoc in the Essel Group-owned team, who dismissed their manager late into a dyspeptic campaign. 
Constantine: A Parallel I-League and ISL good for Indian football
Whilst their season can only be described as total shambles, a few shining points remained which will no doubt give coach Oscar Bruzon hope for an immediate promotion at the very first time of action. Here are three players who impressed in the now demoted teams' ranks. 
---
3. DJELALUDIN SHARITYAR
---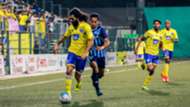 A late addition to the Mumbai squad, the Afghan defender made 11 team sheets and started nine matches. The 34-year-old was an important figure in the Mumbai defence especially as he aided the side in keeping five clean sheets.
Though he was part of the rear-guard who conceded a combined NINE goals against East Bengal and DSK Shivajians, his contributions in stabilising the defence cannot be overlooked.
A tactically flexible player with an ability to play the ball out of defence, he aided the Maharashtra-based team in getting at least six points, though it was Mumbai's inability to finish at the opposite end that ultimately led to the end of their I-League journey. 
---
2. FARUKH CHOUDHARY
---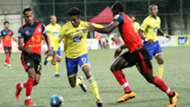 An attacker by trade, the 21-year-old was shifted back into a central midfield role where he made 10 appearances for the Yellow and Blues.
He played well enough for Santosh Kashyap to favour him in place of Pratik Choudhary. The Kerala Blasters loanee will be keen to play at the highest level and his performances will have gone a long way in convincing those suitors.
---
1. THOI SINGH
---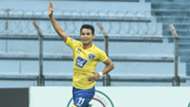 The Manipur-born 27-year-old was actually one of the best highlights of the season for the side from the commercial capital of India, despite missing a small chunk of the season through injury.
Scoring two goals throughout the season for a Mumbai side who went 16 GAMES without winning this term, Singh's industry on the right and infused creativity was a welcome sight for the Mumbai fans, who'd had enough of Santosh Kashyap's muddled managerial reign.
Singh scored an important goal to hand his side the win over DSK Shivajians, while he netted the second in a highly impressive performance versus runners-up Mohun Bagan.