What is Sarriball? How Chelsea's tactics could change after Antonio Conte era
Chelsea will embark on a new era following the appointment of Maurizio Sarri, ending extended speculation about Antonio Conte's future.
Despite Conte lifting the Premier League title in his first season in charge, a fifth-placed finish and an FA Cup victory in his second season wasn't enough to secure his post – and Chelsea's owners have since replaced him with the former Napoli boss.
Sarri is an exciting appointment for Chelsea, and he is sure to bring his philosophy of attacking football combined with high press to Stamford Bridge – marked already by his signing of Jorginho, who he managed at Napoli.
But what is 'Sarriball', and how will Chelsea have to adapt to the new tactical formation? Goal brings you all the details.
---
What is Sarriball?
---
The concept of 'Sarriball' – or 'Sarrismo' – is essentially a fast-paced, possession-based style of attacking football often likened to a vertical tiki-taka. Much like the style of play made famous by Pep Guardiola during his reign at Barcelona, Sarriball features short and quick passes designed to move play as far up the pitch as quickly as possible.
The new Chelsea boss builds upon this method through pushing the ball out from his back-line, and depends heavily on his defenders holding possession to begin the first instance of attacking threat. Sarri's defenders are the first instigators of the attack – as seen through his use of defender Kalidou Koulibaly at Napoli last season, whose passing and ball control was integral to the Italian side's push for the title.
Essentially, Sarriball is a method of high-pressing play (though not to be confused with Jurgen Klopp's gegenpressing) that forces defenders into making mistakes, which are then punished by the attack.
Napoli, last season, showed incredible attacking football and pushed Juventus as title challengers right to the very wire – finishing the season just four points behind the eventual winners. 
The Italian side emerged from the campaign with more shots on target, chances created and passes but it was, ultimately, their inexperience that pulled them short. Juventus' veteran status in winning the Serie A – last season's win was their seventh successive victory in a row – was Sarri's downfall.
The Italian manager favours using a 4-3-3 lineup instead of using a three-man central defence as a springboard. Midfielder Jorginho – so integral to Sarri's plans for Napoli that he followed the boss to Stamford Bridge – was deployed deeper from the pitch to collect the ball, used to seamlessly shift play between defence and midfield.
Sarri also prefers to deploy his attack from the left flank, his players on that side in control of ball possession while his players based on the right-hand side of the pitch mirror their movements.
Smooth and seamless passing between midfielders to intimidate opposition defenders is a trademark of Sarri's style of play, which in turn forces the back-line to attack the ball – leading to more spaces being opened for the attackers to capitalise on, roam freely in and go for the jugular.
---
How will Sarri's tactics be different from Conte's?
---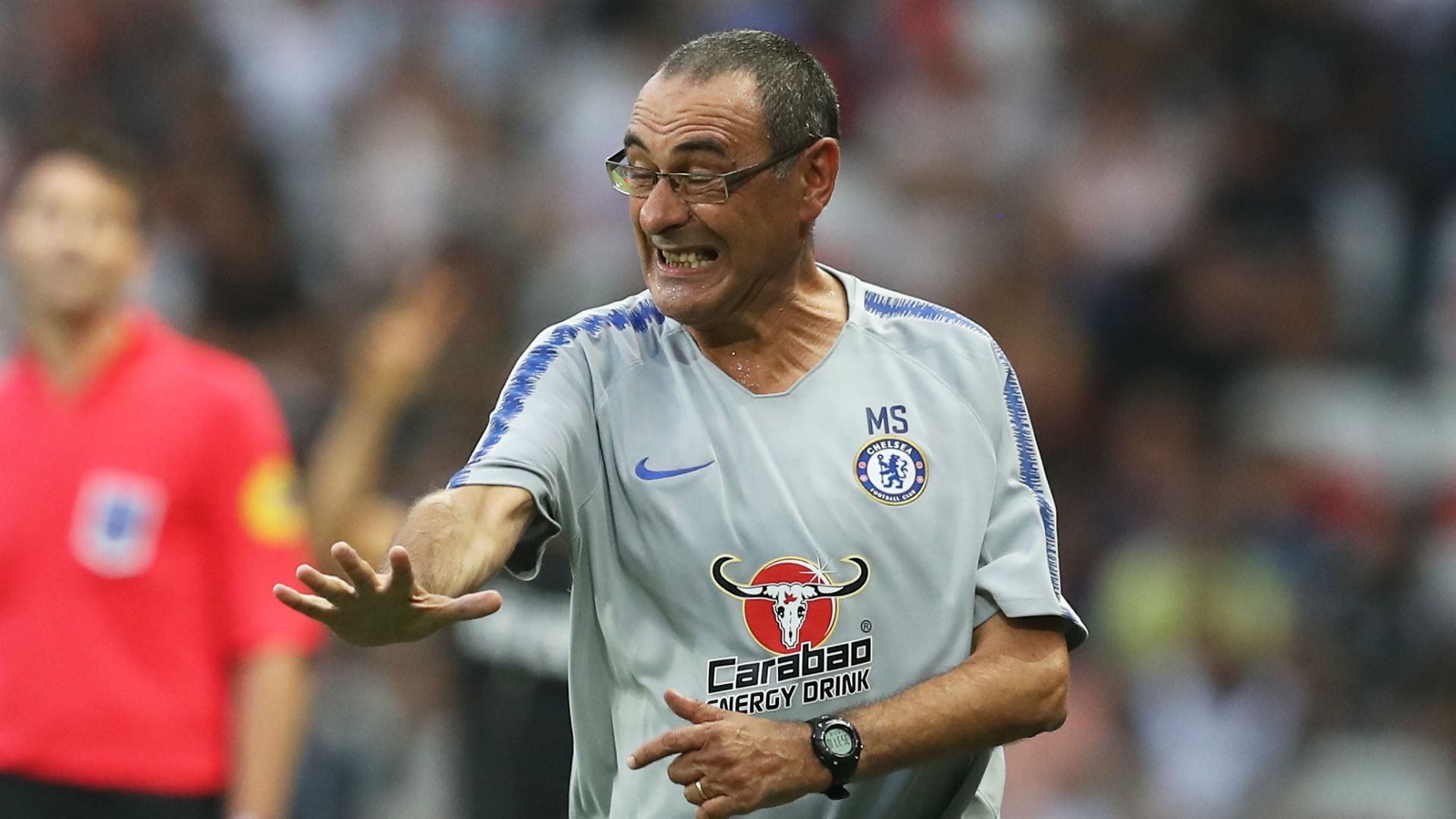 Whereas Conte instilled defensive lineups and shapes into his Chelsea team, it is an attacking mindset that Sarri will be implementing onto his newly-inherited squad.
The biggest change to Chelsea's system will be Sarri shifting the defensive line to a back four, essentially unsurpsing Conte's more evenly favoured lineup. Victor Moses will be tasked with being deployed as a winger, with Cesar Azpilicueta taking on full-back duties, while Marcos Alonso and Davide Zappacosta will need to have their positions re-jigged.
Jorginho will be key in not only advancing the Chelsea side's familiarity with Sarriball but also handling the transition from defence and midfield. The Italian was the only Chelsea player left on the field after 90 minutes against Inter, following his 45-minute display against Perth, where he completed 98 passes.
Sarriball requires just as much tactical preparation as it does physical, another reason as to why Jorginho remained on the pitch – and Sarri's players will face a test against time in order to be affiliated with the new attacking philosophy come the new Premier League season.