Bayern München
What has happened to Renato Sanches? Portugal's €35m wonderkid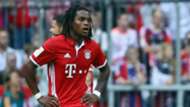 ---
COMMENT
---
On Saturday, Portugal kick off their 2017 UEFA European Under-21 Championship campaign against Serbia hoping to add the underage competition to last year's senior trophy.
Just a year ago, Cristiano Ronaldo captained Portugal to the European Championship, defeating hosts France in the final to win their first ever major competition. Teenage midfielder Renato Sanches was one of the side's stars in the competition, garnering interest from all of Europe's top clubs before eventually agreeing to join Bayern Munich for an initial €35 million, which could rise to €80m with add-ons.
Bayern's new logo looks like old one
Twelve months later, he has missed out on the Confederations Cup squad, and instead will be lining up for the U-21s in Poland, having failed to impress during his first season in the Bundesliga. Back in 2016, he was getting widely praised, with Thierry Henry fawning over the then 18-year-old during BBC's coverage of the Euro 2016 final: "I just love him, I love the fact he just wants to go forward with energy. He gets the ball and he goes and I think that's what Portugal needed at the beginning. He gives that energy, he always wants to go forward."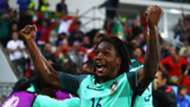 However, since joining Bayern Munich, the career of the European Championship Young Player of the Tournament has gone backwards.
His debut for the club was delayed due an to injury picked up at Euro 2016, but when he did finally appear for Bayern Munich, Sanches looked off the pace in a routine 2-0 win over Schalke. He was substituted in the second-half, and had to be defended by captain Philipp Lahm, who told reporters "He's a very, very good player, otherwise he wouldn't be here. He's a European champion and will definitely be an asset to us in the future."
Even after that, Sanches never really displayed that obvious talent that saw him shine at Euro 2016 and become the first Portuguese player to win the Golden Boy award. The teenager struggled throughout the season, and was afforded little playing time, starting just nine games in all competitions, and playing in only 17 of Bayern's Bundesliga matches.
He received a Bundesliga winner's medal, but with zero goals and zero assists, was far less deserving of it than most of his team-mates. His passing percentage of 88 per cent was a rare highpoint in a disappointing season statistically as he failed to integrate at the Allianz Arena.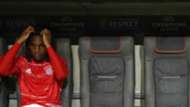 Sanches has basic English and even more basic German, and this has hindered his ability to gel into the squad. Bayern legend Lothar Matthaus criticised him in his Bild column, calling the midfielder one of the flops of the season.
"Renato Sanches may still be young and a move abroad difficult, but you would expect more minutes with a €35m transfer fee. Sanches didn't deserve to play more," Matthaus wrote.
Bellerin & U-21 stars who could move
He received the backing of manager Carlo Ancelotti regularly during the season, with the Italian insisting that fans and pundits were expecting too much of the teenager - despite the hefty price tag.
"It's a new language, new country, new club, and he's very young," Ancelotti told reporters. "We need to be patient with him, the second half of the season will be better for him."
The second-half of the season was just as disappointing as the first, with Ancelotti selecting Arturo Vidal, Thiago and Xabi Alonso ahead of him in central midfield. Versatile Joshua Kimmich was also started in the centre as Sanches was left on the bench.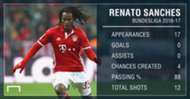 The retirement of Alonso may offer Sanches more opportunities at the Allianz Arena next season - but there is no guarantee he will still be there as Bayern seek a sixth successive title. Both Sanches and Ancelotti have claimed the 19-year-old will stay in Munich, but a loan spell could be on the cards, while Jose Mourinho remains interested in bringing him to Manchester United.
Tolisso completes €41.5m Bayern move
"My relationship with Carlo Ancelotti is very good. He speaks with me, explains things, tells me what I need to improve," he told A Bola.
"Being at Bayern is going to help me a lot. Every day I spend here I feel I am a better player."
The European U-21 Championship will offer Sanches a distraction from the disappointment of club football - if he does not turn things around soon, he will find himself out of Bayern much quicker than expected.