Goal 50
'Why not win it this year?' - Liverpool hero Mane targets Champions League glory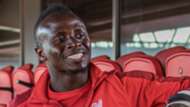 Sadio Mane's eyes light up as he looks into the iPad.
We are sat in the Main Stand at Anfield, and Goal is showing the Senegalese star footage of Liverpool's remarkable run to the Champions League final last season.
"Good memories, eh?" he smiles, as the video starts to play.
Good memories, indeed. Their campaign ultimately ended in disappointment, but what a ride they took their supporters on!
From Hoffenheim to Kiev, via Maribor, Moscow and Manchester, Jurgen Klopp's Reds thrilled Europe; terrified them at times. After too long in the shadows, they re-established themselves as one of the continent's top sides; expansive, dangerous, daring.
Mane, of course, played a huge part in that. Liverpool's smiling assassin, the 26-year-old is unfailingly polite and incredibly softly-spoken away from the pitch, but on it he is no respecter of reputations. His first ever Champions League campaign proved that.
There were 10 goals, spread over each stage of the competition. Three in the group stages, a hat-trick at Porto in the last 16, a vital header against Manchester City in the quarter-final at Anfield, and home and away strikes against Roma in the semis. It was Mane, leading the fight, who grabbed the Reds' goal in the final against Real Madrid too.
The Roma goals pop up on the screen. "Oh no, Alisson!" smiles Mane, watching his new team-mate flounder. "Sorry, my friend! Bad memories for him, eh? No chance with those!"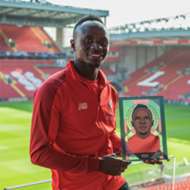 He's right. At times last season it felt like nobody had a chance once Liverpool got going. Not Maribor or Spartak Moscow, beaten 7-0 in the group stages, not Porto, battered 5-0 at home in the last 16.
Not even Manchester City, the record-breaking Premier League champions who were smashed 5-1 on aggregate in the last eight. Roma, with Alisson in goal, shipped seven goals in the semi-finals, including five in just over half an hour at Anfield.
"It's the most enjoyable season I've had," Mane says. "Of course, I can say that.
"It wasn't easy, but we tried to do our best. In the beginning, when we started the group stages, nobody expected us to go to the quarter-finals or the semi-finals, but we always believed in ourselves, gave everything and that took us a long way in the competition.
"Honestly, the Champions League is the dream of any player in the world. I know it was always my dream, for sure.
"Last season was the first time I had ever played in the Champions League, and we made great memories which will stay in my mind forever. We played great, great, great teams and had some amazing results. We gave a lot to try to win the final, but we didn't sadly. That's part of football.
"Now we have tried to forget about that and we are doing our best this season to try to go to the final again." A pause and another smile. "And why not win it?"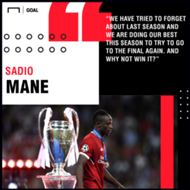 Mane smiles again when told he has placed at No.18 in the annual Goal 50 list. Ahead of Sergio Ramos, for example, and Neymar. Higher than Philippe Coutinho, his former Reds team-mate, and Sergio Aguero. Isco, Gareth Bale, Luis Suarez, Paulo Dybala all sit below him.
"Not above Mo though, no?" he laughs, referring to Mohamed Salah. Not this time, Sadio, unfortunately!
That relationship with Salah (who placed third on the list) and Roberto Firmino (29th) was key to Liverpool's success last season, and will be key if they are to better it this time around.
Between them, the three netted 91 goals in all competitions. Mane's 20, from 44 appearances, was his best return in a single campaign since he was playing for Red Bull Salzburg in 2014. With seven this term, he is already on course to surpass that tally.
Remarkably, given their exploits last season and the fact Liverpool have made their best start to a league season since 1990, that golden attacking trio has been under the spotlight of late.
The goals are still coming – 18 between them so far – but is something missing? Has there been a drop off in performances, in sharpness, in efficiency? Why do we feel as if Liverpool are operating at a level below what we saw in the spring?
"Honestly, I always enjoy playing alongside these great players," Mane says. "They make everything easy for me!
"We are very close, we love to play together and we love to give each other the pass to score. It's amazing to play alongside them.
"Lucky for us, everyone talks about myself, Mo and Bobby, but, believe me, the work starts from the beginning. We are Liverpool, and we have a great team all over. They make the foundation for us, and make it easier for the forwards to shine."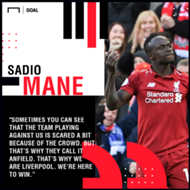 Still, those players must know that expectations have been raised after what happened last season? Once the surprise package loses its surprise element, what happens then? People demand, people expect, pressure builds. Standing still is moving backwards.
"For us, it's a motivation, not a pressure," Mane insists. "We are all still young, and we know we have a great team. We will continue to try to do our best, but it's not pressure. Pressure doesn't help.
"Of course, last season, nobody expected it from us, and maybe this year they do. But that's not pressure; that's motivation to do even better. You need that.
"The aim of any player is to get better and better and better. That's why we work hard in training. But don't forget that we are a team, and the most important thing is to win trophies. If my goals help us to do that, or Mo's or Bobby's, then that's a dream.
"Of course, I would love to score more than I did last season, but only if it helps us to win!"
Winning a trophy this season will be hard, of course. Liverpool have begun well but City, who broke the 100-point barrier last term, are again setting a furious pace at the top of the Premier League table. In the Champions League, competition looks even fiercer.
Mane, though, believes the Reds have what it takes. He believes.
"We are on a good run, and we have started well this season," he says. "It's too early to speak about the title, or winning trophies yet, but we can take it game by game.
"It's not easy. There are so many great teams. Both the Manchester clubs, Chelsea as well. But we are Liverpool. We don't concentrate on other teams; we are thinking about ourselves.
"Our fans, they make it easier for us. They play a big part in our success. Sometimes you can see that the team playing against us is scared a bit because of that.
"But that's why they call it Anfield. That's why we are Liverpool. We're here to win."