Christian Vieri
'Nowadays you just need a good Instagram to be a striker' - Vieri blasts social media generation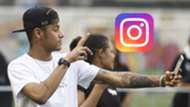 Former Italy striker Christian Vieri has put the boot into the current generation of goalscorers for being more interested in Instagram than honing their craft.
The ex-Inter star, who also shone for Juventus, Atletico Madrid, Lazio and AC Milan among others, scored more than 200 goals in 1990s and early 2000s.
And though he now enjoys the finer things in life - owning restuartants and a fashion label as well as reinventing himself as a club DJ - he believes today's forwards don't work as hard as he did.
Vieiri, 45, blasted: "Nowadays you just need a good Instagram to be a striker."
He told Radio Deejay : "You don't need to score 30 goals anymore. No need to score every Sunday.
"Before, if you didn't score then you locked yourself indoors, went back out the following day to review the mistakes you made and try to improve.
"That doesn't happen anymore. We were sick, all my generation, especially strikers. We were sick for goals."
Vieri, who played for 15 clubs and won 49 Italy caps, was dismissive of comparisons between himself and Inter hitman Mauro Icardi, who has been described as 'an animal in the box'.
"Icardi? We're very different. I wanted to start fights with everyone. I scored about 140 goals in Serie A and, more or less, I remember them all, even the chances I missed."
Despite his distain towards the younger generation, Vieri, known as Bobo, is no stranger to social media himself - he has 1.9 million followers on Instagram to Argentine Icardi's 4.1m.
And he recently announced a foray into the world of club deejaying.
"I train every day at the console," he said. "They call me from all over the world to deejay."