Videos
VIDEO: Rogue sprinklers halt play in Argentina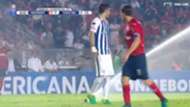 A 0-0 draw played out between Independiente and Alianza Lima was made more exciting by a set of rogue sprinklers.
During injury time in the second half, as a throw-in was taken, players were disturbed by a number of water hoses which were activated prematurely. 
Play was halted by the sprinklers, much to the amusement of those watching, before the pair played out the remainder of their Copa Sudamericana draw.
Watch the confusion unfold in the video above!