Manchester United
VIDEO: Mourinho's wild celebration for Manchester United stoppage time winner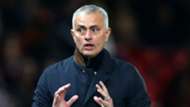 Jose Mourinho did not hold back showing his emotions after Marouane Fellaini saved Manchester United blushes Tuesday night.
The Red Devils seemed set to suffer a humiliating scoreless draw at home to Swiss side Young Boys, which would have put the club's qualification for the last 16 on hold until the final matchday of the group stage.
Mourinho's side would muster 21 shots in the contest, but only got four on target, and may have been fortunate Young Boys could not get any of their 11 shots on the United goal.
The result would have heaped even more pressure on Mourinho following a scoreless draw at home to Crystal Palace in the Premier League and a loss to Manchester City in the club's last game prior to the international break.
But Fellaini delivered a stoppage time winner in the 91st minute, giving Manchester United three points to the relief of the crowd at Old Trafford. 
In the process, Fellaini snapped a club record drought of 275 minutes without a home goal in European competition and narrowly prevented his side from being kept off the scoreboard at home in Europe for the third consecutive match.
And Mourinho did not hold back in showing what the goal against the current leaders of Switzerland's top flight meant to him, kicking over a set of Manchester United water bottles.
If that wasn't enough, the manager immediately grabbed another set of bottles and triumphantly slammed them to the turf in celebration.
ALL THE EMOTIONS pic.twitter.com/qnNAK7EVvG

— Bleacher Report Live (@brlive) November 27, 2018
ICONIC REACTION 😂

Jose Mourinho after Marouane Fellaini's late winner... pic.twitter.com/cz8n1ZHTB6

— Football on BT Sport (@btsportfootball) November 27, 2018
Speaking after the match, Mourinho explained his reaction. "Relief," the Man Utd boss said. "Frustration before that, then relief. We didn't play for that, we didn't play for 0-0 or to be in trouble until the last minute.
"Frustration, I was not unhappy with the players, not at all. Frustrated we couldn't score, yes, but my players were very tired in the end and that's what I love, it means they gave everything, they had moments of good football, hypothetical beautiful goals, but then also moments of pressure, a lack of confidence that frustrated us.
"In the end we scored, I united the goal with David's save. Without that save there's no winning goal. In the end we qualify with one game in hand. We suffered a lot, but we did it."
While it wasn't a game for the highlight reel for the Red Devils, Mourinho will no doubt be thrilled to see his team among the eight sides that have already qualified for the knockout round.
The Red Devils join local rivals Manchester City, along with Barcelona, Ajax, Real Madrid, Bayern Munich, Juventus and Roma in the last 16.
Mourinho's squad are next in action Saturday as they travel to meet Southampton in Premier League action.