Premier League
VIDEO: Costa and Alonso score screamers in Chelsea training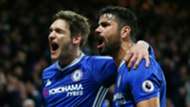 Watch out, Burnley! Chelsea duo Diego Costa and Marcos Alonso look thirsty for goals ahead of their trip to Turf Moor on Sunday.
Conte: Chelsea must keep momentum
The pair were involved in the Blues' first goal in their 3-1 Premier League win over Arsenal last time out, with Alonso finding the back of the net with a header after Costa initially struck the crossbar.
And Costa and Alonso are clearly hungry for more after each finding the top corner with stunning efforts in training ahead of the Burnley clash.
Costa, who has scored 15 goals for Chelsea so far this season, beat third-choice goalkeeper Eduardo with a cracking effort before Alonso decided to get in on the act.
A video posted by Diego Costa (@diego.costa) on Feb 9, 2017 at 12:08pm PST
The Spaniard, who has scored four goals for the west Londoners since joining the club last summer, bent a wonderful strike past Thibaut Courtois which was every bit as good as his team-mate's, if not better.
A video posted by Marcos Alonso (@marcosalonso28) on Feb 9, 2017 at 11:03am PST
Chelsea are currently nine points clear at the top of the Premier League table ahead of locking horns with 12th-placed Burnley.