Videos
VIDEO: Camilo scores incredible golazo from midfield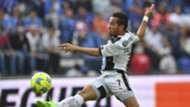 David Beckham's got nothing on Camilo Sanvezzo.
WATCH: Sarmiento's panenka fail
The Queretaro forward scored a true golazo in the 66th minute of Queretaro's trip to face Toluca in Liga MX play. The Brazilian took the ball off Toluca legend Sinha in the centre circle, and wasted no time in blasting a shot into the top corner of goalkeeper Alfredo Talavera's net. 
The Mexico international barely seemed aware there was a ball in the air, with the direct shot befuddling the goalkeeper who could do nothing about the attempt, remniscent of Beckham's famous blast for Manchester United against Wimbledon.
Camilo went on to score a second goal as the Gallos Blancos stunned Toluca at home in a match where the Red Devils needed a win to return to the top of the Liga MX table heading into the final weekend before the playoffs.