United States U20
U.S. qualifies for U-20 World Cup with 4-0 win over Costa Rica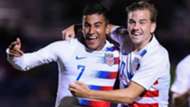 The United States qualified for the 2019 U-20 World Cup by defeating Costa Rica 4-0 on Friday in the Concacaf U-20 Championship. 
The U.S. took the lead 15 minutes in when Frieburg midfielder Alex Mendez ripped a left-footed drive from distance past the Ticos goalkeeper. 
WHAT. A. RIP. 😱

Alex Mendez fires from 30 yards away to give the 🇺🇸 a 1-0 lead vs. 🇨🇷! pic.twitter.com/BKgoXTFlvT

— U.S. Soccer YNT (@ussoccer_ynt) November 17, 2018
Just five minutes later, LA Galaxy academy product Ulysses Llanez doubled the lead with a low strike to the near post. 
Just Uly doing Uly things! 🤷🏽‍♂️

Ulysses Llanez scores his 7th (!) goal of #CU20 to double the 🇺🇸's lead! pic.twitter.com/VZpu08b0VB

— U.S. Soccer YNT (@ussoccer_ynt) November 17, 2018
Unfortunately for Tab Ramos' side, Lllanez was forced off with an injury shortly after scoring his team's second goal, and his seventh of the tournament so far. 
In the second half, Juan Pablo Torres and Ayo Akinola added insurance goals for the USA, who cruised to an easy win. 
One more for insurance.

Ayo Akinola takes flight for the 4-0 advantage against Costa Rica at #CU20 ! pic.twitter.com/XCycPkJPIk

— U.S. Soccer YNT (@ussoccer_ynt) November 17, 2018
The U.S will face Honduras on Monday night, with a win or draw sending the team to the Concacaf U-20 final on Wednesday to defend its title.
More importantly though, Friday's win means the U.S. will be at the 2019 U-20 World Cup, which will be hosted by Poland between May 23 and June 15 of next year.