Portugal
This is not football: Portugal's Euro 2016 victory a damning indictment on the sport
---

COMMENT
---
Euro 2016 will be remembered as one of the poorest major international competitions of all time, so it is fitting that the Portugal side that claimed the trophy played in a manner that epitomised the tournament.
Dour, defensive and boring, Fernando Santos' side ground their way to a 1-0 extra-time victory over France thanks to a fine goal from Eder that was out of keeping with what had gone before. It took them 80 minutes to muster a single shot on goal in the final, which was a bleak spectacle barely fitting of the occasion.
The sight of the Portuguese mustered behind the ball was a common sight in the knockout phase. Their fixtures against Croatia and Poland were among the worst of a tournament not short of monotonous matches, and Sunday's showpiece was little better. Moreover, they shambled through the group stages with three draws against modest opponents they were expected to sweep away.
It is ironic, then, that after one of the few matches they seemed to make an attempt to win – against Iceland – that Cristiano Ronaldo blasted their opponents' defensive attitude as being a "small mentality".
Santos simply transposed this tactic onto superior players to win the country's first international tournament but little love from neutrals.
"I want the media to keep saying the same thing. That we're this and we're that, that we won undeservedly," the 61-year-old – as dour in his press conferences as his side are on the field – told the media on the eve of the final.
"That's what I would like them to say that we won and we didn't deserve it. That would be amazing. I'd be going home very happy if they said that. And I will be going home very happy."
Of course, the veteran coach justly argued that his tactics are entirely valid. Portugal did not cheat their way to success; they played fairly, diligently and were not even the beneficiaries of any dubious refereeing decisions. It was not their fault teams were incapable of breaking them down.
Portugal's victory in Paris has drawn comparisons with Greece's success over the Iberian nation in the final of the 2004 edition. Ronaldo was present on the field when Angelos Charisteas scored the only goal of the game to produce one of the all-time upsets.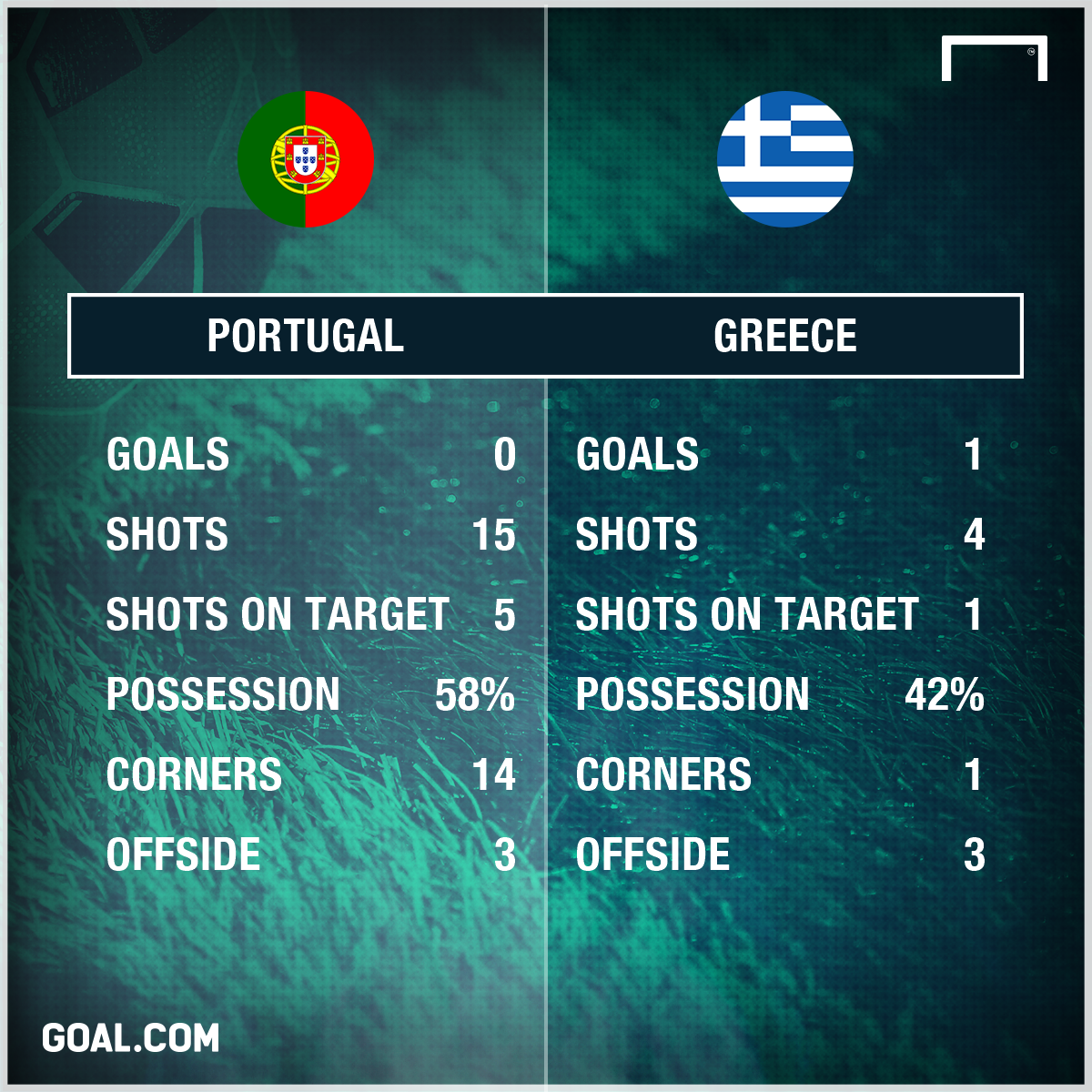 Otto Rehhagel's side were the most unloved of underdogs, playing a brand of football that made minutes feel like hours. They had no multiple Ballon d'Or winner in their ranks, no up-and-coming wonderkid in midfield and not even a two-time Champions League winner in their defence. Their success was built out of the necessity to form the most robust defensive unit the international game has seen in a generation.
The tragedy of Portugal is that they could have been so much more exciting, yet Santos' attitude is pragmatism taken to the nth degree. Rarely can a team comprising of so many exciting players have played with so little excitement - and that is the real shame of this side.
Ronaldo, whose final was cut sadly short by a knee injury, was able to contribute only three goals during a tournament in which his immense talents were hidden by a shroud of mind-numbing football. His brilliant backheel goal against Hungary will remain as an emblematic moment, but it was certainly not representative of his four weeks in France.
Nani, Ricardo Quaresma and even Renato Sanches, meanwhile, were unable to offer more than fleeting glimpses of their undoubtedly thrilling abilities.
Fans were warned of their dreary nature before the competition started. During the qualifying campaign, for example, they failed to win even one match by more than a single goal, including two fixtures against Armenia, who are ranked 110th in the world – below the Faroe Islands, Canada and Iraq.
This is a side that unashamedly puts substance before its style. They will, quite rightly, bask in glory at home, but history will not remember them as a great team. Santos and his players, however, will not care - they are European champions and to hell with aesthetics and the desire of fans to see a spectacle.
"They won, you can't take the credit from them, but if you ask me if it was a football that I like to see, of course not. There'll be a lot of people who would say the same. It's efficient, I don't know if they're the best team, but they are the most effective and they won," the great Luis Figo said of the 2004 final.
Twelve years on, his words ring true once more.
Goal journalists are powered by the Samsung Galaxy S7 and Gear 360