Liverpool
The Van Dijk factor - Why Liverpool's record-breaking defence is powering their title challenge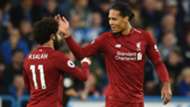 If the sign of a good team is being able to win when playing poorly, then Liverpool are in business.
Unbeaten in nine Premier League matches this season, the Reds have rarely looked like a side at the peak of its powers. That they sit second in the table, behind Manchester City on goal difference only, is testament to the power of hard work, collective resilience and the ability to make key moments pay.
Jurgen Klopp's men certainly did that at Huddersfield on Saturday, their 1-0 win coming courtesy of their one true moment of quality in the game, with Mohamed Salah finishing off an incisive move involving Joe Gomez and Xherdan Shaqiri. Salah's four-game scoring drought is over; the Egyptian moves level with Sadio Mane and Daniel Sturridge as Liverpool's top scorer this season with four, and took this one in reassuringly confident fashion.
Yet, while it is clear that Klopp is still waiting for his attackers to find their best form, the Reds boss can at least reflect on the fact that, in keeping yet another clean sheet, his team made history.
No Liverpool team has ever started a league season by conceding as few as three goals in nine games. A year ago Klopp was defending his back line after a meltdown at Tottenham, 12 months on he can acknowledge the giant strides they have made in that department.
"We had to improve, and that's what we did," he said, though he was honest enough to admit they had enjoyed a few slices of luck at the John Smith's Stadium.
Jonathan Hogg hit the post, Alex Pritchard had a goal ruled out for offside and Huddersfield had a decent penalty appeal waved away by Michael Oliver, the referee. A more confident striker than Steve Mounie might have made more of a presentable late chance, too.
"You need luck to only concede three goals," Klopp admitted. "And yes, we have sometimes needed it. But still we will get more confidence and belief in what we can do.
"If you are a team which is not easy to beat, it makes it a little bit easier to win. That's what we've tried to create, that's where we are now and so let's keep on going."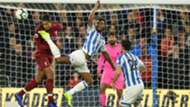 The improvement has been vast. This was the 38th game Liverpool have played since that Spurs debacle, and in that time they have conceded just 25 goals. It is the best record of any Premier League side in the same period.
Suddenly, they are able to cope when Salah - or Sadio Mane or Roberto Firmino – struggles. Suddenly they can feel confident protecting a narrow lead, defending balls into the penalty area or dealing with sides who take the more physical approach. Klopp is right in saying they need luck – see also  Riyad Mahrez's penalty miss – but there is more to Liverpool's development than that.
In Virgil van Dijk, they have arguably the Premier League's best centre-back, a player who not only delivers high-class performances on a regular basis, but who is simultaneously able to raise the levels of those around him. Dejan Lovren, the scapegoat for that Spurs shambles, looks a different player with the Dutchman alongside him, while Gomez looks like being the ideal partner for him in the long-term. Quick, strong and composed, Gomez has played the last two games at right-back, and looks no less assured than he has in the centre.
Quickly, the discussion over Van Dijk's transfer fee has been forgotten. The £75 million ($98m/€85m) Liverpool paid to Southampton matters little; he's been worth every penny.
Credit to Klopp, who kept his cool when the Reds' pursuit of Van Dijk ran into rather public trouble in the summer of 2017. The Reds boss knew he was taking a risk by refusing to sign an alternative, and that every subsequent setback would be amplified by fans and media. When Lovren or Joel Matip struggled, or Ragnar Klavan failed to shine, Klopp would be questioned. The manager trusted his club to smooth the situation. Liverpool waited five months and, after hefty negotiations, got their man.
The same can be said with their other major defensive recruit, goalkeeper Alisson Becker. As with Van Dijk, Klopp was ready to eschew alternative targets had Roma chosen not to lower their asking price for the Brazilian, who could eventually cost the Reds £65m ($85m/€74m).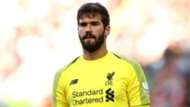 Alisson already has six clean sheets, and though he has not been infallible – at Huddersfield his handling was significantly better than his footwork, for example – he has quietened the discussion over the goalkeeping position at Anfield, in a way that neither Simon Mignolet nor Loris Karius could.
In any case, those in front of him are ensuring that boredom is his greatest enemy. In their last five league games, Liverpool have given up just 11 shots on target – and that includes fixtures away at Tottenham and Chelsea, as well as at home to the champions. Their schedule has been unforgiving, though the next six weeks or so look a little less daunting on paper.
Huddersfield was the 10th time Liverpool have won 1-0 under Klopp, but the second time already this season. "This is maybe the first period in my life that we are winning average matches," he remarked.
Is it, he was asked, a good sign that a team can win while below its best? Is it, perhaps, the sign of a title contender?
"We cannot write a book tonight about how to win trophies," he replied. "There is only one way, and that's to win football games."
Liverpool are finding a way to do that right now. And though we can expect improvement from their attacking stars, their Van Dijk-led defence is providing plenty of cause for optimism.
For too long it has been the Reds' Achilles heel. Suddenly, it looks like it could be their biggest strength. The foundation on which to build a title challenge? Time will tell…