The story of how Real Madrid tried to sign Maradona
Last Updated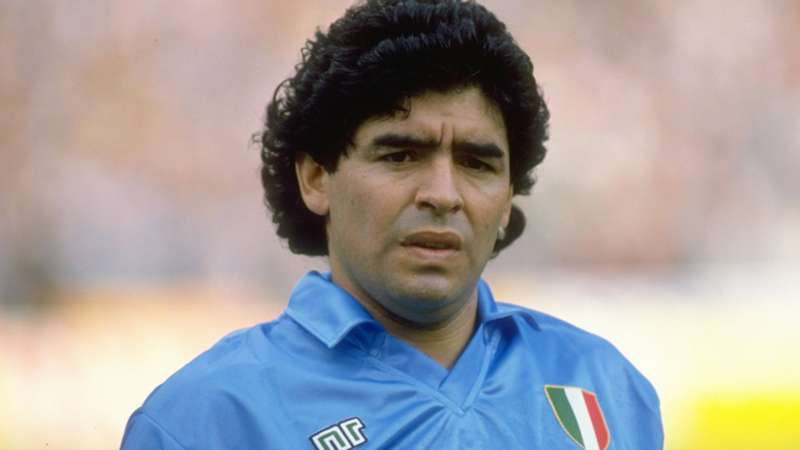 Getty Images
---
SPECIAL REPORT
---
It seems unthinkable now. Diego Maradona famously turned out for Barcelona, Napoli and finally Sevilla in his European career in the 1980s and early 1990s. But had things gone differently, he could have ended up playing for Real Madrid.
Napoli can overcome Madrid in Italy - Insigne
Maradona started out at Argentinos Juniors and moved to Boca Juniors in 1981. At that point, Barca were already interested in taking the talented midfielder to Europe and in the interview in which he confirmed he was going to play for Boca, La Pelusa was asked about a possible transfer to the Catalan club.
That would happen later, but Madrid tried their hardest to change Maradona's mind. In the summer of 1982, the legendary Alfredo Di Stefano took over as coach at the Santiago Bernabeu and Real hoped their own Argentine great could convince Diego to join Madrid and not Barcelona. "We are going to see what we can do," Di Stefano told the Spanish media in May of 1982.
Barca had already signed a pre-contract agreement with Maradona, but he only ended up signing for the Blaugrana after negotiations with both clubs in the Spanish capital.
"I met Maradona and his first agent, Jorge Czysterpiller, in Buenos Aires," Spanish singer Francisco told AS last year. "In 1982 they came to Madrid to negotiate the signing of El Pelusa for Barca and they stayed in a house I had in Sor Angela de la Cruz, very close to the Santiago Bernabeu.
"But there were moments of doubt because Real Madrid got in the middle of it and the matter was about which club offered more money. The first option was to sign for Barca, but Czysterpiller was negotiating with both clubs. With Real Madrid, in secret, because I think nobody knew that. What's more, the stadium was 500 metres from my house!"
Ultimately, however, Madrid missed out on the world's most exciting player at that time. "Czysterpiller ended up buying my flat," Francisco added. "But in the end they closed the deal with Barca, because they were the club that offered more money."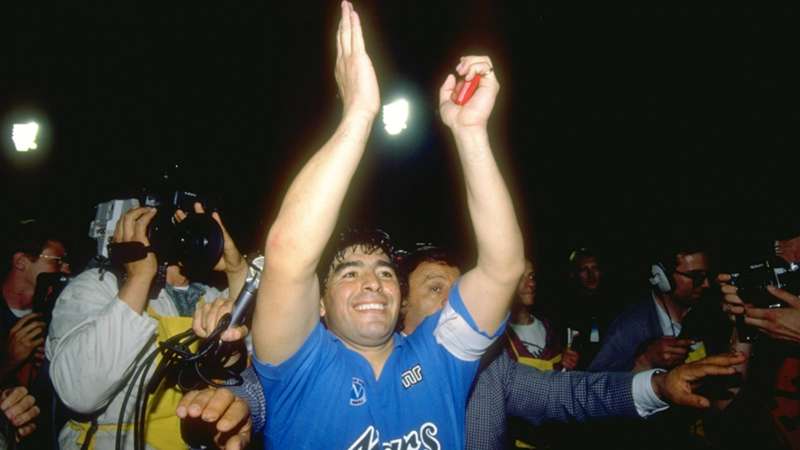 Maradona spent two seasons at Barcelona and although he hit greater heights at Napoli later in his career, there were memorable moments during his time at Camp Nou - including a Copa del Rey win against Madrid and a stunning goal at the Santiago Bernabeu when he dribbled past goalkeeper Agustin and then waited for defender Juan Jose on the goal line before beating him too and finishing from close range.
Maradona denies reports of girlfriend disturbance in Madrid
That game ended in a 2-2 draw, but Barca went on to claim the Copa de la Liga with a 2-1 win in the second match at Camp Nou. It was one of three trophies in 1983, but Maradona's second season was interrupted by injury after a brutal tackle by the infamous 'Butcher from Bilbao' Andoni Goikoetxea and the Argentine's time at the Catalan club came to a controversial end following a mass brawl with the Basque side in the final of the Copa del Rey in 1984.
There were constant feuds between the player and president Josep Lluis Nunez and following the melee in that match, in which Maradona headbutted Athletic's Miguel Sola, before attacking two other Basque players - one with an elbow in the face and another with his knee - it was time to leave. "When I saw those scenes of Maradona fighting and the chaos that followed I realised we couldn't go any further with him," a Barca director later said.
So Maradona moved to Napoli and it was with the Italian side that he played his finest football, winning the hearts of the fans as the club claimed two Scudetti and also a UEFA Cup crown. During that time, of course, he also won the World Cup with Argentina.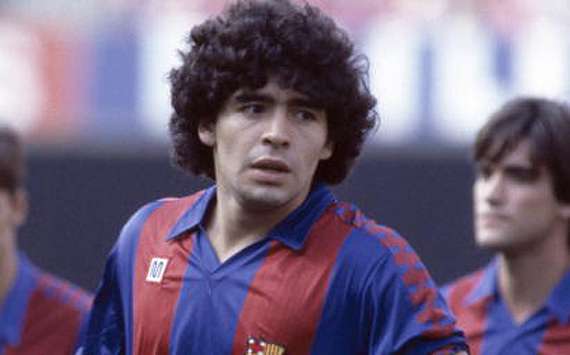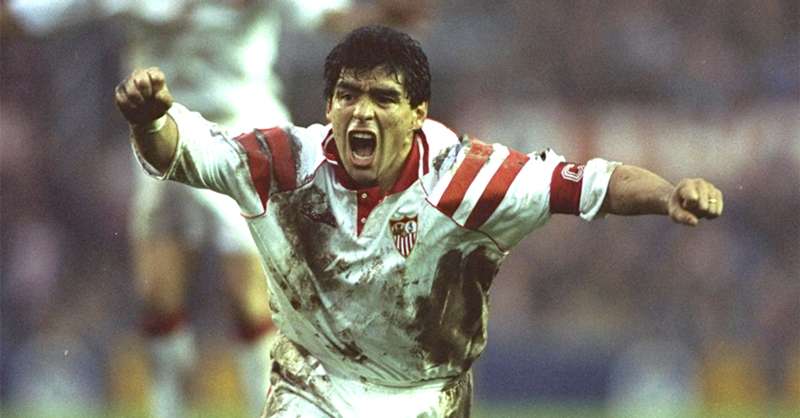 In the meantime, however, Real Madrid remained interested and in December 1986, before Maradona had won any titles with Napoli, the Argentine admitted he could end up signing for Los Blancos.
"Maradona is able to be bought today," the No.10 said of himself. "Napoli are interested in selling Maradona as soon as they can, because if not, when his contract ends, [Real Madrid president Ramon] Mendoza will come along and take him."
According to El Pais, Maradona would have cost around 1,500 million pesetas at that time (around €9m in today's money). "It's a lot of cash," Diego said. "But nothing is impossible. Only Madrid and Juventus are powerful enough to achieve it - and Napoli would never let me move to Juventus. I wouldn't want to go there anyway."
Maradona disappointed by Messi absence at FIFA gala
Mendoza had invited Maradona to the Bernabeu to watch a match in 1986 and El Pelusa described the Madrid chief as "a sensational guy, who is very laid-back and likes to do things properly". And the player himself added in December of that year: "I want to finish my career in my country, but in the biggest football (Europe), at Real Madrid, for example, if it comes off. And if not, I would accept an offer I have had from England for a long time."
For his part, Mendoza said: "Maradona is a great player and Madrid are a great club. That makes a link-up viable. It is something we can explore."
In order to finance a move for the World Cup winner, however, Real required sponsorship agreements to help pay the player's transfer fee and wages. And Maradona said: "I'm not desperate to sign. I don't need the football or the money. It is the clubs that have to look for the sponsors."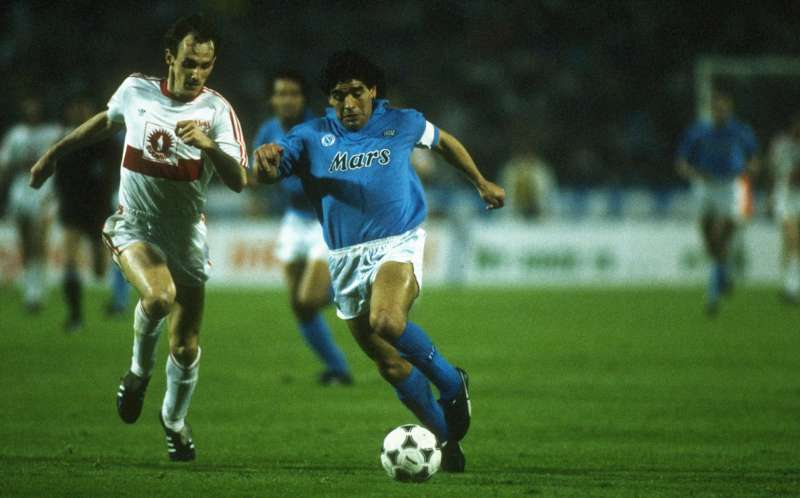 Back in Italy, the 1986-87 season ultimately changed everything for Maradona as Napoli went on to claim the Serie A title and also the Coppa Italia, but in the summer after those trophies were won, Madrid sought to take advantage of a contract dispute between player and club to sign the Argentine.
Thank God Maradona is not playing - Modric
Maradona's contract ran until 1989 and he hoped to sign a new deal that would take him to 1993. However, the Italian club were only offering one more year at that point and the player was furious.
"As the World Cup finals will be held in Italy (in 1990) and Argentina will play in the Neapolitan city, I have the impression that the president of my club, Corrado Ferlaino, wants to put me to the test. If my performance were to be good, I would continue in his team. On the contrary, he would hand me my notice.
"But, as is logical, I do not accept that, at this stage of my career, I am questioned in terms of one specific result. Either I'm renewed as I wish by the end of the year or I will look to live my life somewhere else."
Ultimately, he ended up staying at Napoli, but left in disgrace after serving a 15-month drug ban. When he moved on in 1992, Mendoza again considered bringing the player to the Bernabeu. However, with doubts over his conduct and also his performances following the ban, Madrid opted against signing the Argentine and instead Maradona moved to Sevilla to link up with his former national coach Carlos Bilardo.
La Pelusa spent a sole season at the Sanchez Pizjuan before returning to Argentina with Newell's and later going back to Boca. So despite several close calls and interest from both the player and the club, a move to Madrid never materialised. And on Tuesday night, he will be cheering for his beloved Napoli as the two teams meet again in the Champions League.