Georginio Wijnaldum
The evolution of Gini Wijnaldum: How the young trickster became Liverpool's golden thread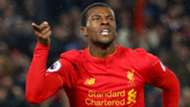 ---
EXCLUSIVE
---
Leroy Fer was full of high-fives and hugs to celebrate Georginio Wijnaldum's transfer to Liverpool long before it actually materialised. As the summer of 2010 edged closer, the rumours in both England and Netherlands escalated: the youngest debutant in Feyenoord's history would be transporting his talents to Anfield.
Klopp: Man City the most difficult team to play
As a team-mate, but moreover as a close friend to 'Gini' since the age of 14, Fer couldn't help but probe into the press reports. 
"I remember that time well," Wijnaldum recounts in an exclusive to Goal. "There was a story nearly every day and on one of them, Leroy asked me 'hey, did you go to Liverpool?' He'd read in the paper that they bought me for €11 million and that I'd had my medical. 
"So I played along and say 'yes, it's all done.' He was so, so excited that I'd made this big move. He couldn't stop talking about it and congratulating me, so I had to tell him I was only joking."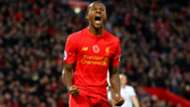 The midfielder's cheeks lift as his smile widens; it may have taken six years, but it is no longer jest - he is a Liverpool player. Recruited for £25m from Newcastle United last summer, Wijnaldum is in-between training sessions at Melwood, and as he leans back on his chair opposite a large window inviting rare sunshine in, the animation painted across his face suggests it was worth the wait. 
The Merseysiders had long followed the career of the dreadlocked kid from Rotterdam's Schiemond district, who'd been given a big billing in the esteemed youth structures of Sparta and Feyenoord, before joining PSV.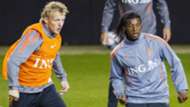 Dirk Kuyt, who spent six years at Liverpool, informed Wijnaldum that his name kept floating around the club's corridors. And a recent conversation with a Liverpool legend illustrated to the Netherlands international just how detailed their dossier on him was.
"Dirk used to tell me often that they would talk about me at Melwood, and I knew the scouts were watching me," Wijnaldum explains. "He'd always say that the club would be a great fit for me and it was good to hear, but I had no intention to leave Feyenoord at that time. 
"I was young and I had a good feeling there so I wanted to continue. I was not busy thinking about moving to a different team. I was not even busy thinking about moving from Holland! I wanted to stay with my family and my friends. 
"A few weeks ago, I spoke to Kenny Dalglish and he told me that he knows all my qualities because he'd watched me for a long time. He was describing goals I scored for Feyenoord and how I played in specific games - he remembered so much!"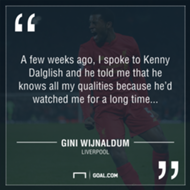 The 26-year-old believes his summer switch was a predetermination, that everything in his career had directed him to line up for Liverpool under Jurgen Klopp, another long-time admirer of his. 
"There was really good feeling about the move, from my side and the club's," he says.
"I was so happy that the discussions were positive, that we had a shared understanding, and that finally it was the right time for this transfer to happen."
Under the German, Wijnaldum is displaying the all-round attributes he was always certain he had, but too often never got the opportunity to display.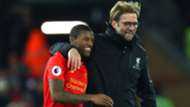 He is Liverpool's golden thread; the player helping to knit together the team's offence and defence, one who operates with the ultimate aim of helping ensure everyone around him is functioning as effectively as possible. He scans, screens, darts, dribbles, covers, creates. 
Adam Lallana and Jordan Henderson have enthused about the work Wijnaldum does, often unnoticed, publicly and privately on several occasions. Klopp, meanwhile, has referenced his "good combination of an aggressive, defensive midfielder plus a creative, offensive midfield player." 
Klopp in 'no doubt' about Guardiola's qualities
A short rewind would reveal that these kind of assessments on the Dutchman's game were sparse.
"I have to be honest, in my career I've really had to fight to come in the middle again," Wijnaldum says. "A lot of managers told me 'you are way more comfortable as a winger than as a midfielder,' but I always kept my trust and confidence in what I knew about my qualities. Because I was fast, technical and could dribble well, it was always the easy thing to label me just a winger and have me stick to that."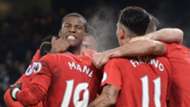 Now stationed on the left of Liverpool's midfield, Wijnaldum actually started out at the heart of Sparta's rearguard.
"At seven, I played centre-back. When you're so young, though, it's more to enjoy the training and to get a feel for the game. It's not heavy on tactics of a position. We were playing on a half pitch, seven against seven or eight against eight, so they say you're a centre-back, but it's not like the real definition. 
"At Under-11/12, I was playing as a right-back. The manager then was Cyril Helstone and he said to me 'no, you're not a defender. You should be in midfield'. That was the big change in my career because from that moment until I made my debut in the first-team at Feyenoord, that was the position I played.
"Gertjan Verbeek came in and I was still in the middle, it was my third season, but he wanted to play on the right side as a winger. I performed well there so they didn't want to move me out, but in my mind, I always believed I was better in midfield.
"I was just happy to be playing, though, because I was young. When you're still developing, getting games is so important. I learnt a lot playing on the wing and now I understand what the guys in those positions want from me.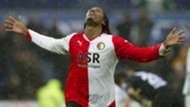 "But when I got older, I knew I wanted to be a midfielder. I've had to have discussions with my agent, managers, directors, chief executives to explain that I am a midfielder, especially at Feyenoord. 
"In my last season, I played on the right wing and a little bit on the left, but after the winter break, Mario Been was the trainer at that time, and he put me in the No.10 position. 
"It went very well and I was lucky, because he was also a midfielder and helped me develop with lots of special advice about what is needed for the role. He guided me through it and before the winter break I had four goals, and afterwards I got 10 with his assistance. That was a sign for the people at Feyenoord, but also others that I was better as a No.10 than as a winger."
Out wide, Wijnaldum would need to make things happen on his own but what what he craved most was being a connector and conductor.
"If you're a winger, you're busy with yourself," he says. "You have to make an action: dribble, or cross, or cut in. When you're in midfield, you are the link in the team between the defence and the attack - the connection point for everything.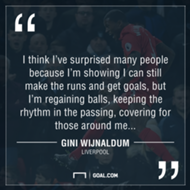 "You have to play thinking about not just what you have to do, but how it will effect those in front, behind and to the side of you. It's a big responsibility, but it's what I really enjoy and it suits my qualities more.
"I think the main reason why managers wanted to play me as a winger and not a midfielder is because I was dribbling a lot and enjoying the attacking freedom, so maybe they felt it was a risk to put a 'tricky player' in the middle. 
"If you have to take on defenders often, of course, there's a higher chance of you losing the ball. So they saw me as an exciting, individual player rather than one who could think of the whole team, but that is because when you're out wide, you have to make things happen on your own mostly instead of helping others make things happen."
Klopp content with 'good' Can contract talks
Even at Newcastle, Wijnaldum often got tarred with the 'luxury' label - a player who could score goals, but offered little else. "A lot of people see me differently, a lot didn't think I could play the way I am now," he says.
"They thought I was just an attack-minded player, the dribbler or the goalscorer without the discipline to defend and check on the movements of my team-mates. 
"I think I've surprised many people because I'm showing I can still make the runs and get goals, but I'm regaining balls, keeping the rhythm in the passing, covering for those around me and getting assists - they're seeing the complete version of me.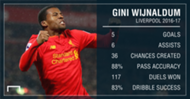 "How I'm playing is exactly what was discussed with the manager in the summer and a big part of it is just to be in tune with what's happening in the team.
"I'm playing on the left of midfield and we have [James] Milner at left-back, who also has to get forward a lot. So I have to notice and understand his movements and also that of the players alongside me and just to the front and back. I have to have a clear idea of what is going on around me and make the best decision for the team.
"I've got the permission to break forward from the manager, but as much as I like to, sometimes it's not always possible given the situations in the game. I have to say, I've grown better and better as the season has gone on because with time, you learn exactly the kind of space your team-mates will be in, the passes they like, the runs they will make.
"In the beginning I knew most of the players from facing them as the opposition, but I didn't know how their qualities and mine needed to mix. That comes from training and playing together so the relationship on the pitch grows and I believe we're just going to get better at it.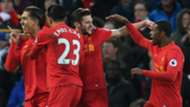 "He wants me to get into the box more, because he knows I've got the quality to get goals and affect the attacking play, so hopefully I get more chances in games to do that."
Wijnaldum's steel in protecting possession has been applauded this season, with that element of his game adopted from Schiemond's football scene. "The place where I come from, you have to be hard and tough to be someone," he reveals.
"When you play on the street, you have to fight for your chance to get a game. You have to make your voice heard and make people respect you otherwise they see you as a joke if you don't state your opinion on anything - a foul or whatever. 
"I had several times where it was my turn to play and you'd get another guy saying, 'no it's mine'. In that situation, you had to stand your ground, to be assertive. I learnt that in Rotterdam and still have that toughness in me today when I play."
Wijnaldum will be tasked with carrying over that authoritative stance to Sunday's midfield battle against Manchester City at the Etihad. In the reverse fixture on New Year's Eve, he proved decisive as he met Lallana's cross into the area with a perfectly timed run and robust header across Claudio Bravo.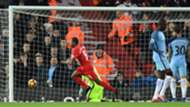 That eighth-minute effort was the only goal of the encounter and with the former PSV ace also bagging an equaliser against Chelsea as well as finishing off Arsenal in a 3-1 victory at the start of this month, he's been tagged as Liverpool's big-game player.
Add to the equation an assist against the Gunners, plus two against Tottenham, and the label seems quite suitable.
"It's easier in the bigger games when both teams are dedicated to going for it, taking the initiative and trying to win," Wijnaldum reasons.
"That allows you more space to play and because we've been so spot on collectively in these games, it makes it easier to then shine as an individual. 
"I've got goals and assists against our biggest competitors this season, but it's as a result of the team. We've got many big-game players and I think we're a side that can bring our very best in these type of challenges. 
"It makes you happy, but it also then makes you sad when you lose a lot of points against the other teams. I believe that if we can do so good against our rivals, then we definitely can do it in the other matches as we showed at the start of the season."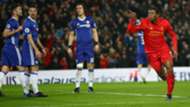 Wijnaldum feels Liverpool's struggles against sides that set up in a primarily obstructive manner is more an issue of the mind than ability or approach. "You can feel the difference in these games compared to the big ones," he reveals.
"You can feel it with the crowd, the expectation is more than before, they are anxious because we haven't performed against the lower teams. So when there's a missed chance or something, then there's this change in the stadium, the opponents feed on it as well, it encourages them. 
"We're only human, so of course you notice and feel it. It's normal for Liverpool fans to have high expectations, because this is a big club - one of the best in the world, so we as a team have to deal with this problem, because only we can change it. 
"We have to be positive and know we have the quality to get the results against anyone. If something is not working out in a game, we have to stay faithful to our way and not get frustrated. We proved we can do it in the first half of the season, so it's not like we're not capable of it. 
"When it's difficult, when teams drop and have no intention to play only to stop you, you have to enjoy this challenge. Don't think 'this is not what we want', but rather enjoy that you have to find ways to create opportunities. You have to think 'okay, they want to play this way, but we're still going to score goals, we're still going to fight for the points'. I think we have to look it at more that way, than 'oh no, here we go, not this game again.' 
"Almost every team is going to do that against us, so we have to accept that and make sure we beat it." 
There is no need for that mental shift on Sunday, though, when Pep Guardiola's men will be expansive and pose a contrasting test. 
Liverpool will be hoping their big-game Gini, the weaver that makes things work, is unbottled again.