James Troisi
The beast is back: Adidas' iconic Predator boot returns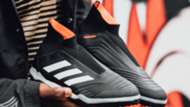 It runs the show, it decides the score and it commands all the respect.
The adidas Predator is back after a two-year absence - and we haven't forgotten the legacy that it has left since hitting the scene in 1994.
Players such as David Beckham, Xabi Alonso, Kaka, Paul Pogba, Mesut Ozil, Ivan Rakitic and Dele Alli have used the famous boot during their careers.
One of the most well-known goals of all-time was struck wearing the Predator, as it proved it's precision in execution during the 2002 Champions League final between Real Madrid and Bayer Leverkusen.
With the score evenly poised at 1-1 approaching half-time, French legend Zinedine Zidane swivelled and calmly smashed a volley into the top corner, with incredible connection off his boot.
Forget about what telling him what to do, the Predator dictated what happened and ruled in every sense as Zidane's Madrid clinched their ninth Champions League title. 
Australia's own Harry Kewell showed the prowess of the Predator with his stunning strike for Leeds against Aston Villa in 2000 displaying the capabilities of the boot.
Now Melbourne Victory's James Troisi is the country's Predator ambassador and is not only a player adept in scoring brilliant goals but also match-winning strikes.
It was his 105th minute goal that secured the 2015 Asian Cup for Australia on home soil.
Arguably his most spectacular goal was scored against Perth Glory at AAMI Park last season as he beat three defenders with deft touches before cutting inside to curl the ball into the bottom corner.
"All game I was on fire, I wanted to score a goal," Troisi said. "I was on my left foot and got the right technique for the bottom left-hand corner - I don't think the keeper really moved.
That lethal left foot will now be paired with the new Adidas Predator 18+ boot to be released on November 29 as party of the Skystalker range - which also includes the X and the NEMEZIZ.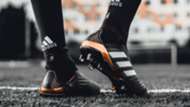 It features a sockfit collar that is designed to naturally expand to the foot's shape, a layer of control skin for optimal grip and an anatomical upper which mimics the heel's shape to provide ultimate lockdown.
Whether it's Troisi, Pogba, Ozil, Rakitic or Alli, the Predator will return to pitches and prove it is the master of control.