Chelsea
Stop Jorginho! Everton give Premier League a blueprint of how to hurt Chelsea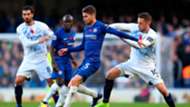 Chelsea manager Maurizio Sarri has a potential conundrum on his hands after influential midfielder Jorginho was rendered impotent for the first time this season by Everton's Marco Silva.
The £57 million signing from Napoli is pivotal to everything Chelsea do in, and out of, possession, elegantly moving around the pitch to dictate the tempo of his team's play with one or two-touch passing.
But, in Sunday's 0-0 draw with Everton at Stamford Bridge, he was frustrated by Silva's tactics. Though Everton were unable to claim a first win at Chelsea since 1993, Silva's plans restricted Jorginho to such an extent that he recorded his lowest number of passes – 50 - since moving to the Premier League in the summer.
Gylfi Sigurdsson and Richarlison were diligent in nullifying his talents which led to so much frustration for Jorginho that he was lucky not to be sent off for a reckless tackle on the Icelandic midfielder in the first half.
Andre Gomes and Idrissa Gueye completed Jorginho's cage as a concerted effort ensured that the go-to option of finding the Italy international was not available to Chelsea.
And, when asked about whether stopping Eden Hazard was key to his side earning a point at Stamford Bridge, Silva turned the focus to the midfield metronome.
Jorginho passes in the PL:

Huddersfield - 66
Arsenal - 99
Newcastle - 173
B'mouth - 79
Cardiff - 92
West Ham - 180
Liverpool - 73
S'hampton - 91
Man Utd - 74
Burnley - 102
Palace - 107
Everton - 50#CFC

— Nizaar Kinsella (@NizaarKinsella) 11 November 2018
"To be honest with you, if you come here just to stop Hazard, it would be the first mistake you make," Silva said at Stamford Bridge. "We came here not just to stop Hazard, we came to stop Chelsea as a team.
"I understand the question as you are talking about, in my opinion, the best Premier League player so far. But we showed this shape, we blocked one player and that's Jorginho. We blocked well Jorginho and, in my opinion, he is one of the key players in Chelsea this season.
"Of course, Hazard can create problems in each moment of the match. In some moments, we blocked him and in other moments he created problems for us. It is normal for a fantastic player like him. 
"It was one of the keys to block Jorginho. It was fantastic work from Sigurdsson and Richarlison in the first moments and then with Gomes and Gueye. My opinion he is one of the keys in Maurizio's system and model this season.
"He controls all the match with and without the ball for Chelsea."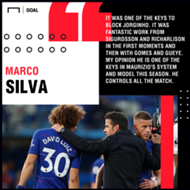 Jorginho's unique skillset often leads him to be described as a regista, a player who you run your entire game through. In the 0-0 draw at West Ham in September, Jorginho broke the Premier League record for both touches and passes in the game.
He will continue to be key and Liverpool manager Jurgen Klopp was the first man to target the central midfielder when facing Chelsea. Everton mastered it more than their rivals and Jorginho was hauled off in the 66th minute for his deputy Cesc Fabregas as Chelsea chased the win.
Stopping Jorginho was a priority for Serie A sides who faced Napoli, where he was equally central to his team's style of play but this match at Stamford Bridge was his first sub-par performance for Chelsea.
Usually, Jorginho ghosts away from any marking effort, with his ability to find space even when targeted showcasing his football brain. Perhaps he was tired after a midweek display in Belarus against BATE, with Fabregas missing that match after being taken ill.
There are also questions remain over whether N'Golo Kante is best suited in a more attacking role on the right of midfield, with huge competition for places as Ruben Loftus-Cheek, Ross Barkley, Fabregas and Mateo Kovacic figure among Sarri's options.
Silva has created a worry now for Sarri, with a blueprint for other managers to face the tactically consistent Chelsea.