Chelsea
The Chelsea curse: Tottenham go back to Stamford Bridge in search of inspiration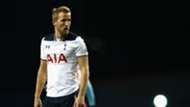 ---
COMMENT
---
If there was one fixture Tottenham could do without, having been knocked out of the Champions League and winning only one match in their last nine, it would be Chelsea at Stamford Bridge.
Rooney breaks Man Utd scoring record
Spurs are winless in this corner of west London since February 1990, having played 25 times and losing on 17 occasions there since. To make matters worse, Chelsea are playing as well now as they ever have during the intervening 26 years with Antonio Conte having marched his expertly-drilled unit to the top of the table. If there was one fixture - in fact - which could remind this news Spurs team of their less than stupendous recent history then it is this one. Nowhere else have Spurs consistently appeared so... Spursy. 
Worse still, Chelsea are working hard to a man, playing innovative football under a coach whose demands are exacting and getting their rewards. Tottenham, not so much. Last season those descriptions would have been appropriate for Mauricio Pochettino's team, and indeed for the early part of this one, but something has happened to Spurs that defies plain explanation.
They turned a corner last year with Pochettino instilling hunger, fight and discipline in a team containing many bright young things from the academy. Where that team has gone is anybody's guess. There is a lack of clarity in what Pochettino is asking from his men as evidenced by a string of formation changes in the past few weeks. There would appear to be a problem in coaxing the same sort of aggression and effort that carried them so far last season too. 
"It's a good challenge for us to go and play in this moment," Pochettino said on Thursday. "They are in very good form. They have a great manager that I know very well and they have great players too. It's an advantage not being involved in European competition or the cups now. They have time to train and develop their philosophy. They are, not only in England but in Europe, one of the teams most in form today."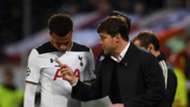 Unbeaten in the league they may be, and still only four points from the top, but the team is malfunctioning. Nothing, outwardly, has changed; they didn't lose any notable players over the summer transfer window and the manager remains in place. However, on an individual and a collective level Spurs are not what they should be.
This is the team, who after beating Manchester City, should have been able to go on and dominate the Premier League. They were playing vibrant, energetic football and defending superbly. Pochettino, tactically, looked to have all-comers worked out but they have drifted badly. On their day Spurs are still the best team in the league but those days are few and far between currently and instead they are falling a long way short of their own standards.
Mourinho: I wanted Valencia at Madrid
Having signed up many of their first team stars to new contracts this season - including Eric Dier, Christian Eriksen, Danny Rose, Kyle Walker and Dele Alli – Pochettino looked to have secured the club's future. But for Dier, Eriksen and Alli in particular those contracts preceded a decrease in output on the field. All three, supposed to be the spine of the Spurs midfield for years to come, are performing badly with lapses in concentration, a lack of intensity and general ineffectiveness blighting their play.
And it's not like Pochettino has a raft of high-class replacements to turn to; if those three aren't playing well then he simply doesn't have the resources to take them out for a player of similar quality. Summer signings like Georges-Kevin N'koudou, Moussa Sissoko and Vincent Janssen are not picking up the slack when first-teamers are either out of form or injured. That goes for the likes of Ben Davies, Kieran Trippier and Kevin Wimmer for that matter.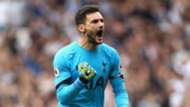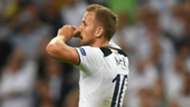 Erik Lamela, Harry Kane, Toby Alderweireld and Rose have missed matches due to various knocks, Pochettino's second sting are just not good enough. The manager sent a pointed message to chairman Daniel Levy after elimination to Monaco midweek by stating that Spurs lacked 'quality' to compete in both the Premier League and the Champions League. That sounds alarmist considering that Arsenal, who only just pipped them to second place last season, are through to the knockouts for the 16th consecutive year and still in touch at the top of the league table.
It would be a little easier for Tottenham fans to digest had two 'quality' players in Walker and Vertonghen not sat on the bench in Monte Carlo in anticipation of this weekend's glamour tie. 
Tottenham's decision-maker-in-chief Levy is also struggling to match the demands of Kane and Lloris in contract negotiations. Whatever happens, Spurs can simply ill-afford to lose those two. Either they are a club who have designs on proper titles or they're not; either they are the new Spurs, with a stadium move imminent and a solid blueprint mapped out, or they're not. Spurs have spent far too long losing players to bigger teams who can match their wages and ambition.
Kane and Lloris are symbols; evidence that, currently, the best talents can choose Spurs and be content. This time has got to be different or else they'll be back where they started. Those two issues should be resolved as soon as possible so Spurs, and Pochettino, know they can aim for the stars. 
And so it's back to the Bridge where Spurs's title challenge finally died last season, where the ghosts of a quarter-century of failure reside and where Spurs's supposedly bright future will again collide with its underachieving past. If ever there was a match that could signify that it's out with the old and in with the new then this is it.