Tottenham Hotspur
VIDEO: Inside Tottenham's state-of-the-art new stadium
Tottenham Hotspur's new 61,000 seater stadium will have the UK's largest single tier stand, but their premium offering will give wealthy fans unique access to what goes on inside the player's tunnel. 
The top 20 richest clubs in the world
The view will cost £9,000-per-season or £339 per-game and will come with come with Michelin star dining as Spurs look to blow away rivals, such as Arsenal and Chelsea, when they open their doors in 2018. 
The tunnel view is one of many options for those with money to burn, but could offer fans the chance to see unique views of after game rows - with moments such as the 'Battle of Stamford Bridge' from last season coming to mind - where Spurs players were involved in post-match rows and aggression after their 2-2 draw with Chelsea. 
Goal was offered access to experience the stadium in a virtual reality experience using a Playstation 4 and Oculus Rift headsets and fans will get the chance to get a feel for the stadium before they put their money down. 
Tottenham's squad have all had a look inside the stadium, using virtual reality and Moussa Sissoko even got a little motion sick after putting on his headset. Hugo Lloris was one of many to have a better experience than Sissoko inside the headset. 
"It is an interesting feeling to see the project of the stadium and it is great to see and feel what the fans will see in a few years time," said the Tottenham captain.
The stadium will have super-fast wifi access and both a grass pitch, for football, and an artificial surface, as they enter into a partnership with the NFL to host three games in London.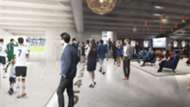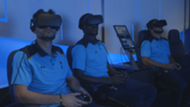 It will also offer a Member's Club, called the H Club, private boxes and more as they aim to recoup their investment into their biggest ever project. The club believe they have balanced the need to maintain a good atmosphere, a problem which plagues West Ham in the London Stadium, while also offering ways to bring in wealthier football fans. 
Spurs will become the first club to have a stadium with an onsite micro-brewery and an in-house bakery as they will produce one million pints of craft beer a year and deliver it straight to the fans inside. 
As with all major projects, Spurs have had to prove it will benefit the local area and they believe 3,500 jobs will be created when the stadium is built and will cost them around £750 million.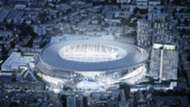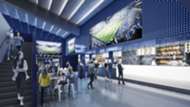 Daniel Levy, the chairman of Tottenham Hotspur is delighted with the attention to detail shown in the project as the stadium gets built up around the club's current ground, White Hart Lane. 
"We believe our new stadium will redefine sports and entertainment experiences," He said. "We have travelled to some of the best venues in the world to ensure no stone is left unturned in order to deliver experiences that are unparalleled for all our visitors.  
"It will provide the world-class facilities our players and fans deserve and bring much needed regeneration to the local area."