World Cup
Southgate: England have made fans believe again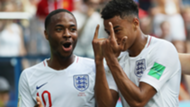 Gareth Southgate has hailed his World Cup stars for altering the public's perception of the England team.
The Three Lions headed into the tournament on the back of an unbeaten, but ultimately dour, qualifying campaign, with the atmosphere at Wembley often approaching boredom.
However, a last minute victory over Tunisia and a record-breaking 6-1 thumping of Panama saw hopes across the country raised, before a 1-0 loss to Belgium confirmed a second-place finish in Group G.
That has led to a last 16 clash with Colombia, and many have suggested an easier route to a potential final. Indeed, should England win their first knockout game since 2006, they will face either Sweden or Switzerland in the quarter-finals. Victory there would lead to a last four encounter with either Croatia or Russia.
And Southgate believes that his players have allowed fans to dream again.
"Ten months ago we qualified [for the World Cup] and people were throwing paper aeroplanes onto the pitch at Wembley," Southgate told reporters.
"We were driving back to our hotel in Malta with some obscene chants being thrown at us from supporters.
"I feel like we've started to connect the team with the public again. I feel like we've created excitement, like we've played in a style that has really shown an expression of what young English players are capable of."
Group winners Belgium face Japan in the last 16, and, while their route may well eventually prove to be smoother, England face a tough assignment against Jose Pekerman's Colombia.
The South Americans finished top of Group H, ahead of Japan, Senegal and Poland, and Southgate is aware of the importance of the last 16 encounter.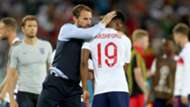 "They've been able to change perceptions of how an England team might play," he added. "We mustn't lose sight of that.
"I really believe in the group of players we've got. They are young. They are inexperienced. For some of them, this will be one of the biggest games [against Colombia] they'll have been involved in.
"But maybe not the biggest. We've always got to keep that context for the players."
One of Colombia, England, Sweden, Switzerland, Russia or Croatia will play in the final from their side of the path, with no player currently competing at the tournament having won the competition.