Transfers
Skriniar admits to Man Utd approach but intends to stay put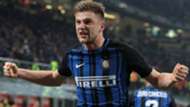 Inter defender Milan Skriniar has confirmed that Manchester United manager Jose Mourinho has expressed an interest in signing him this summer.
With the Red Devils in the market for several additions during the current transfer window, their gaze has drifted towards San Siro.
Mourinho, a former Inter boss, had been hoping that a highly-rated defender on the books in Milan could be lured to Old Trafford and bolster his back line.
Skriniar has admitted to an approach being made, with the 23-year-old flattered to have been identified as a target for United.
He has, however, spent just one season with Inter and intends to stay put for the foreseeable future.
Skinriar told the Slovakian football federation's official website: "Manchester United? I heard from them and it made me proud.
"But I'm even happier that Inter decided to reject it and that they believe so much in me."
Barcelona and Real Madrid have also been credited with holding an interest in Skriniar after seeing him star in Serie A.
One season at Sampdoria earned him a €20 million move to Inter in 2017, with his reputation and price tag having risen again over the last 12 months.
Skriniar has, however, sought to end the rumours surrounding a potential summer switch on a regular basis.
He told Pravda in May: "I don't know about any particular offer, I have no reason to leave, and I don't think Inter would sell me anyway.
"I also love the fact that we'll play in the Champions League, I'm looking forward to it."
It appears unlikely that Skriniar will be relaxing that stance, with United and Madrid having to turn their attention elsewhere in the pursuit of a new centre-half.