MLS
Seattle Sounders supporter gets Celine Dion tattoo after bet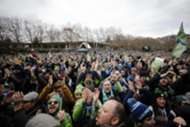 A Seattle Sounders supporter paid tribute to his team's MLS Cup triumph by getting a tattoo.
But rather than being inked with an image of the victorious squad or manager Brian Schmetzer, Matt Oak decided to adorn his body with a picture of Canadian singer Celine Dion.
From Morales to Rusnak: RSL hopes for seamless transition
The seemingly strange choice relates to a bet Oak made before the start of the 2016 campaign, when tattoo artist Melissa Senesac noted that another of Oak's tattoos resembled Dion.
Reminder kids: never tweet. https://t.co/RcNqTb6x7t pic.twitter.com/eKy6ayDdva

— Matt O⭐️K (@mattoak) February 11, 2017
The avid Sounders fan then promised to get one of the 48-year-old on his posterior if his side won a trophy last year, which they duly did by claiming the MLS Cup for the first time in their history.
WATCH: Depay and Lyon smash Dijon
Oak was determined to fulfil his promise despite having recently lost his job, so he decided to set up an online funding campaign, where fans pledged the required $600 within hours.
"It was hard to sit down or sleep normal for the first few days," Oak said. "It's going to make for a good date story... a good third date story!"