Chelsea
Sarri welcomes Chelsea's Loftus-Cheek 'problem' after virtuoso Europa League display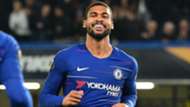 Chelsea boss Maurizio Sarri admits he is happy to have a "problem" like Ruben Loftus-Cheek after the England man laid down a claim for regular first-team football with a brilliant Europa League hat-trick. 
Loftus-Cheek, 22, has been a bit-part player so far under the Italian, with Thursday's start just his fourth appearance of the season. 
But he took full advantage of his opportunity, smashing a memorable hat-trick as BATE Borisov were put to the sword in a 3-1 victory for the Blues . 
And Sarri stated that he welcomed more competition for places in Chelsea's star-studded first team. 
"I like very much this type of problem," the former Napoli man joked when asked about Loftus-Cheek's sterling audition for a regular spot. 
"He played very, very well. In the offensive phase wonderful. I told him at the beginning of the season I thought he was really a very good player. Now I think the same, but now he's now more suitable to my football.
"He's improving. He needs to improve in the defensive phase, but it's not only Loftus.
"At the moment we have four midfielders for two positions. Three of them with the same characteristics. Only Kante is a defensive midfielder. It's very difficult for me to put in the starting XI two so offensive midfielders at the same time. I hope to be able to do it in the future.
"I need the cooperation of the players of course. I need an improvement in the defensive phase."
A graduate of the Chelsea academy, Loftus-Cheek is a favourite of the Blues support, who are eager to see more local heroes make a mark at a club which has historically leaned heavily on imported talent. 
But Sarri recognised that it was hard to offer him regular football with such competition in the midfield. 
"He's a very good player. I have a little problem as I have to put 11 players in the starting XI and I have 28 players. It's a little problem and I don't know how to solve it," he added.
"As I said before, I have a tactical problem with the midfielders. We need to work and they have to improve in the defensive phase. In the future I may be able to put [Ross] Barkley and Loftus in the same starting XI.
"I know that the fans love him, of course. He was in the academy so that's normal. My problem remains the same. It's very difficult to solve the tactical problem without an improvement in the defensive phase with these three midfielders. We can try and we will work, but I need the cooperation of the players."
Chelsea will be back in action on Sunday, when they visit Burnley in the Premier League.