World Cup
Salah retirement claim is a 'big lie', says Egypt FA member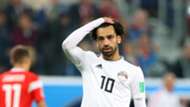 Mohamed Salah is not considering retiring from international football, according to Egyptian FA board member Essam Abdel Fattah.
It was reported by CNN on Sunday that the forward is unhappy with the way the governing body has treated him and used his image around the World Cup.
Egypt will not proceed beyond the first round after losing their first two games, with Liverpool hero Salah missing the first because of an injury and scoring a penalty in the 3-1 defeat to Russia in their second fixture.
Nevertheless, he has been a big focus in the early stages of the competition, but little of it has been down to his exploits on the field.
Salah was pictured alongside Chechnya leader Ramzan Kadyrov, who was installed as the republic's president by Vladimir Putin and has been accused of a large number of human rights violations.
Kadyrov even announced Salah as an honorary citizen of Chechnya, holding a celebratory event for him and his Egypt team-mates.
Having already battled with the governing body over their use of his face on the team's plane, he is said to be thinking about his future already, but Abdel Fattah insists there are no issues.
"This is a big lie," he told Goal when asked about claims Salah could quit. "Nothing like this is true and I wonder how CNN are reporting these things."
When asked for his thoughts on the controversy surrounding meetings with Kadyrov, he added: "I don't understand this. We're guests in this men's land and he invited us for a dinner. We can't refuse something like that and this is very normal.
"[Critics] are mixing politics and sports? We're a sports team and nothing can involve us in politics.
"I'm sick of all these rumours around our team. Today it was also said that an EFA member's son was selling a ticket illegally...these are silly things and still lies."
Salah has played 58 times for Egypt since his debut in September 2011 and has scored 34 times, putting him fourth in their all-time top scorer list.