Cristiano Ronaldo
Ronaldo needs Messi like Ali needed Frazier and Federer needs Nadal - Ferdinand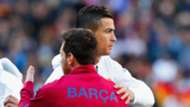 Cristiano Ronaldo's rivalry with Lionel Messi has drawn comparisons to famous sporting duels of the past by Rio Ferdinand, with the Real Madrid and Barcelona stars considered to need each other as much as Muhammad Ali needed Joe Fraizer and Roger Federer needs Rafael Nadal.
Two icons of the modern era have been locked in a decade-long battle for supremacy, sharing a stunning number of goals, countless records and 10 Ballons d'Or between them.
Both continue to set the standard, with Golden Shoe winner Messi finding the target 45 times in the 2017-18 campaign and Ronaldo still having the Champions League final in which to add to his haul of 44 efforts.
To Ferdinand, who saw Ronaldo close up at Manchester United, the Portuguese is the best in the business, with the 33-year-old having far eclipsed the exploits of other legendary figures from the recent past.
He told The Sun: "Great skill gets you so far but there have been many players like that. Think of Rivaldo, [Luis] Figo and the Brazilian Ronaldo, or Ronaldinho.
"They were phenomenal but they were contesting to be the best in the world for only two or three years.
"Cristiano has been in the discussion every year for a decade.
"He gets 50 goals a season time and again. He has been producing the goods at the highest level for 15 years. He is also more of a team player than people give him credit for.
"Having Lionel Messi around at the same time means he's been pushed to even greater heights. It is always a fight between them to be the best player in the world.
"Muhammad Ali needed Joe Frazier, Federer needed Nadal, Larry Bird needed Magic Johnson. You never spoke about one without mentioning the other."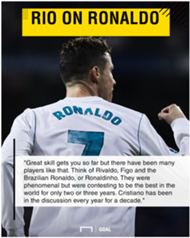 Ronaldo's insatiable desire to be the best has carried him to the very top of the game, but Ferdinand claims he always been "one of the lads" and never allowed himself to get carried away by the trappings of fame and fortune.
The former United defender added: "We used to rip it out of him for the gear he wore and I gave him more than most.
"He wasn't precious though - he could take it and give it out. He really was one of the lads. He's no prima donna.
"Yes, he can be temperamental, he has an ego and gets accused of arrogance off the pitch. But he really is one of the most honest, genuine blokes you can meet and very caring."