Transfers
Rivaldo: I never had the chance to join Manchester United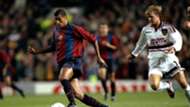 Former Barcelona star Rivaldo has revealed there was interest from Manchester United in signing him, but admits he was never given an opportunity to complete a move.
The Brazilian was signed by Barca from Deportivo La Coruna in 1997 before leading the Catalunya club to back-to-back La Liga titles and a Copa del Rey.
Rivaldo spent five years on the books at Barca before eventually being sold to AC Milan in 2002, but there was speculation linking him with a move to the Premier League prior to his switch to Serie A.
"Well, there was a lot of talk when I was at Barcelona that the club were thinking of transferring me to England but I never had the opportunity," Rivaldo said, speaking at Betsafe Star Sixes 2017.
"In all the newspapers in Barcelona there were rumours that a few agents were speaking to mine, I don't know how true this is but the press said Manchester were interested; I don't know how true this was but it was in the papers."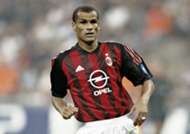 Rivaldo enjoyed early success at Milan, securing the Champions League trophy in the 2002-03 season a year after lifting the 2002 World Cup with Brazil in Japan.
However, the 45-year-old claims his biggest achievement came whilst still at Barcelona when he was awarded the Ballon d'Or.
"In 1999 I was considered the best player of the world and for me this is so important," he added. "I came from an incredibly poor family and to go to being the best player in the world is incredible.
 
"You can't quite believe it and when it happens you start remembering when you were a small boy and yes I do think that this was the most important time of my life. You start off like millions of players and then become number one in the world, that's impressive.
"I've had lots of coaches in Brazil and Spain. When I was younger in Brazil I would have to train a lot and always show our coach respect, they want you to do things well and one thing my coach always asked of me was to be dedicated to my training and thanks to football I was able to learn a lot."
Pushed to choose his all-time five-a-side team, though, Rivaldo was unsure how to shoehorn the incredible magnitude of talent he has played with into his side.
"This is quite hard because I have more than five players in my head," the Brazilian said. "I just hope those who don't make the list don't get angry.
"Okay, in goal Dida, Puyol, Figo, Ronaldo, Ronaldinho, Zidane, Rivaldo."
Rivaldo was speaking exclusively to Betsafe Star Sixes. For all the odds and betting markets on England vs Brazil,  please click here