Transfers
Revealed: Neymar's massive Paris Saint-Germain contract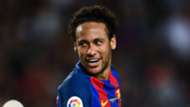 Neymar appears closer than ever to leaving Barcelona for Paris Saint-Germain, and the Brazil attacker stands to benefit greatly from the transfer.
Goal understands that the 25-year-old attacker has been offered a basic salary of €30 million per year at the Parc des Princes, which represents around three times more than he currently earns at Camp Nou. 
However, 15 per cent of his earnings will go to his father, whose opaque role in the player's transfer from Santos to Barca continues to cause legal issues for all those involved. 
Neymar, meanwhile, will receive an up-front fee of €40m when he completes his world record €222m transfer.
On top of this, the Brazil ace will be offered a percentage of the income from hotels owned by the PSG board, plus a private jet that will allow him to return to Brazil when he wishes.
These figures outline just how important Neymar is seen to the PSG project following a campaign in which they flopped in the Champions League, losing a record lead to Barcelona in the last 16, and saw their Ligue 1 crown stolen away by Monaco.