Arsenal
Ramsey unsure why Arsenal withdrew contract offer he was about to sign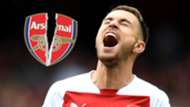 Aaron Ramsey admits to having received no fresh contract offer from Arsenal, with it still puzzling as to why terms he was close to agreeing were withdrawn by the club.
The Wales international has been allowed to enter the final year of his current deal, just like Mesut Ozil, Alexis Sanchez and Jack Wilshere before him.
Discussions regarding an extension have dragged on for some time, with no compromise having been reached with a player now heading towards free agency.
Ramsey has been left slightly bemused by a long-running saga, with the 27-year-old unable to explain why the Gunners have walked away from talks.
He told reporters when quizzed for an update on his situation: "Well, there is no contract on the table at the moment so there is nothing for me to consider.
"We all know that the contract was taken away off the table. I'm not sure exactly why because a few weeks before we sort of agreed and I was ready to sign.
"Something happened, I am not sure exactly what, but that contract is no longer there, or nothing's on the table. So I just have to get my head down, work hard and try and help this team as much as I can now. We'll see where that takes me."
Ramsey has continued to figure for Arsenal amid the uncertainty surrounding his future, with Unai Emery having handed him the armband for a 1-0 Europa League victory over Sporting.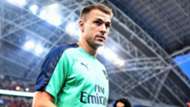 He insists he will continue to keep his focus locked on his playing commitments until told otherwise, with there little he can do about an expiring deal at present.
"Hopefully somebody will come up and tell me why," Ramsey added on the breakdown in communication.
"I'll accept that if there's a reason. I'm going out and playing the way I have always played… Nothing [about the contract situation] is in my head when I'm out there. I'm just trying to have fun on the football pitch.
"These things happen and I am just concentrating on playing now. I'm not really thinking about anything else too much. I've got other things as well in my life that I am delighted with. I had twins last week so everything is good at the moment for me. I can't complain."
Ramsey has helped Arsenal to embark on an 11-game winning run, with that impressive sequence of results having aided their cause across Premier League, Carabao Cup and Europa League competition.