Manchester United
Pogba & Solskjaer put smiles back on Man Utd fans' faces at Old Trafford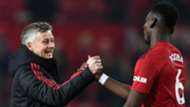 If the yardstick is Jose Mourinho's final few matches against the Premier League's relegation candidates, then Ole Gunnar Solskjaer's first home game in charge of Manchester United was satisfactory after a 3-1 win over Huddersfield.
In recent months, United have struggled to put away the likes of Crystal Palace and Southampton, unable to convert territorial and possessional dominance into goals. Admittedly, there was a respite against 10-man Fulham but that was insufficient evidence that Mourinho could turn things around.
Missing from those United performances was the belief that they could go out and hammer teams, something that was commonplace in Solskjaer's days as a player here but sadly lacking of late.
He wrote in his programme notes of the need to re-establish what it is that Manchester United stand for . That starts with an attitude and a mindset that the work will get done on the pitch. He hasn't had many training sessions with these players but it is clear that they are already focused on attack.
It was rare under Mourinho to see so many United players ahead of the ball as they had here. They often had both full-backs, Luke Shaw and Diogo Dalot, as well as Juan Mata, Jesse Lingard, Paul Pogba and Marcus Rashford all as options for a forward pass.
The line of three behind the striker – Mata, Lingard and Pogba, interchanged quite a bit and left an enthusiastic but ordinary Huddersfield backline unsure about who to mark.
It was exactly what you'd want as a United fan. The Old Trafford faithful have come to games in recent months not expecting much and just hoping that Mourinho would somehow get his team over the line.
It might not yet be the New Year but there is a fresh feel about how they are playing. That attitude is appreciated by the fan in the stands, who like Solskjaer, still believes United stand for attacking football. So long as he sends them home happy then all will remain well.
The interim manager has also made it known that he will seek to promote young, homegrown talents where he can. He introduced teenager Angel Gomes for Mata as proof of that. And it is already clear that another graduate in Rashford is growing in confidence.
The No. 10 appeared occasionally timid under Mourinho; maybe afraid to make a mistake in case he saw his number appear on the fourth official's board shortly after. But there is a definite improvement in the young England striker, who is trying things and seeking to capitalise on the chance he has been given to fill in up top for the absent Romelu Lukaku.
There was one first-half nutmeg and cross in particular with Zanka Jorgensen the victim. Dalot should really have given that cross the finish it deserved.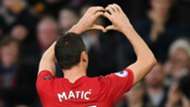 And it was Rashford who provided the corner from which Nemanja Matic scored the opener. He was key for United in an attacking sense, peppering Jonas Lossl's goal with shots all afternoon. He was involved again just before Mata crossed to Ander Herrera, who laid on Pogba for the second.
It had been an uncertain period for United at the beginning of the second half to that point. Huddersfield fought hard and could well have had an equaliser. A well-worked corner routine yielded a shot from inside the area by Laurent Depoitre but David de Gea clawed the ball away from the United top corner.
It is the type of save for which the Spaniard has been renowned at United, even if this season he has been beneath his peak. It was enough to preserve the lead for United, and to give Pogba the platform to go and kill the game with two fine goals.
He will take the plaudits after a fine outing. He was not shackled in a midfield duo as under Mourinho. That heavy lifting was left to Fred and Matic. Instead, Pogba was free to sprinkle his class on the game, such as his goals and one majestic second-half through ball for Rashford.
He is a world-class talent and it is clear that Mourinho could not win him over nor get the best out of him. That looks to have already turned around. Zanka took some of the gloss off late on but many United fans had already set off for the pub by that stage.
Two wins in a row then for Solskjaer, an achievement Mourinho managed only twice this season. He could well add a third on Sunday when Bournemouth are in town. Then, who knows, a fourth against Newcastle a few days later.
It's no coincidence that Mourinho was chased away with so many winnable fixtures on the horizon. Any Manchester United manager would benefit from a softish start like the one Solskjaer has been landed with. He's watched his team score eight times in two games, concede only once, and firmly re-align their season.
They are still a mile off fourth but the new man has got to start somewhere. The feelgood factor is back around Old Trafford this festive season.