Videos
Oxlade-Chamberlain: I go to festivals in disguise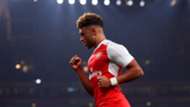 Arsenal's Alex Oxlade-Chamberlain is a huge music fan and tries to get to as many shows as he can – the only problem is getting crowded by fans.
The attacker revealed that he recently attended the Reading festival with some friends to take in sets by the Red Hot Chili Peppers and British Grime artist Stormzy, but had to remain incognito throughout the shows.
It's a tough life being rich and famous! See the Ox talk Reading, the Chilis, Stormzy and more in the full interview above.
Footage courtesy of Kicca.