Manchester United
Owen uncomfortable with Mourinho's 'poor' Manchester United style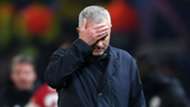 Manchester United's stoppage-time victory over Young Boys has "papered over the cracks" of the poor style that has developed under Jose Mourinho, according to former Red Devils striker Michael Owen.
The Red Devils appeared headed to an embarrassing scoreless draw with Swiss club Young Boys in the Champions League on Tuesday, only to be saved by a 91st minute winner from Marouane Fellaini, producing a visceral reaction from their manager.
The victory ensured Manchester United will be moving on to the knockout round of the Champions League once again, something manager Jose Mourinho boasted about after the match.
However, the performance came on the heels of the Red Devils suffering a scoreless draw at home against Crystal Palace, while their 20 goals in the Premier League has them tied for just seventh in that category.
Mourinho's trademark defence-first style sits at odds to the attacking style of club legend Sir Alex Ferguson and that has left Owen, who played for the now-retired manager from 2009 to 2012, dissatisfied with what he's watching.
"I sit uncomfortably with it," Owen said of United's style on BT Sport. "I can't believe it's the Manchester United way to go. Last few minutes going long.
"Manchester United to me is going wide, it's attacking, it's speed, it's getting even more strikers on the pitch, playing one-twos and great quick play. Lumping the ball into the box in the last minute, okay it's worked, but it's not for me."
While the Young Boys result alleviated some of the pressure on Mourinho, he has come in for frequent criticism, not only this season, but for much of his Manchester United tenure.
The club finished outside the top four in his first year, though they qualified for the Champions League through winning the Europa League. And while they finished second last season, they were 19 points behind league winners and local rivals Manchester City.
This season, Mourinho's side are already 14 points back of City, and are mired in seventh, seven points back of fourth place.
These struggles the last few seasons leave Owen unconvinced Tuesday's victory does any more than provide a band-aid to a much larger problem that a last-second goal or two won't solve.
"It's not just been for two or three weeks that it's been poor, it's two or three years," Owen said. "Look at the empty seats. How are Manchester United not selling out their stadium? It's unbelievable.
"What we're seeing is poor performances, but that goal in the last minute has papered over the cracks once again. Yes, Manchester United have qualified and yes, they should celebrate that, but it's papering over the cracks.
"It's very, very average and it's been average for some time."