Nutella or sh*t - Is Gennaro Gattuso the man to save AC Milan?
Last Updated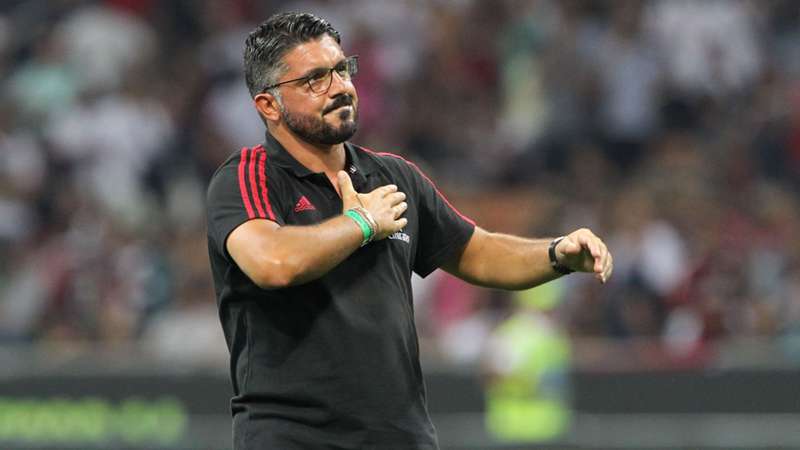 The first time a teenage Gennaro Gattuso saw Andrea Pirlo in action, he was left feeling so insecure about his own abilities that he considered quitting football.
Luckily Gattuso persevered and he went on to enjoy a wonderfully successful career playing alongside Pirlo, for both Italy and AC Milan.
He was the perfect foil for the playmaker, a snarling beast of a midfielder whose primary purpose was to break up opposition attacks, reclaiming possession in order to get the ball back to Pirlo as promptly as possible.
However, when it was recently put to Gattuso that Pirlo's artistry would have been impossible without his industry, the former midfielder countered: "Don't talk nonsense! Let's not confuse Nutella with shit!"
Gattuso, though, was an excellent midfielder, one good enough to spend 14 seasons at San Siro, winning two Serie A titles and two Champions Leagues during that time.
The question now, though, is whether he is a good coach, with Gattuso having been surprisingly named Milan's new coach following the dismissal of Vincenzo Montella on Monday.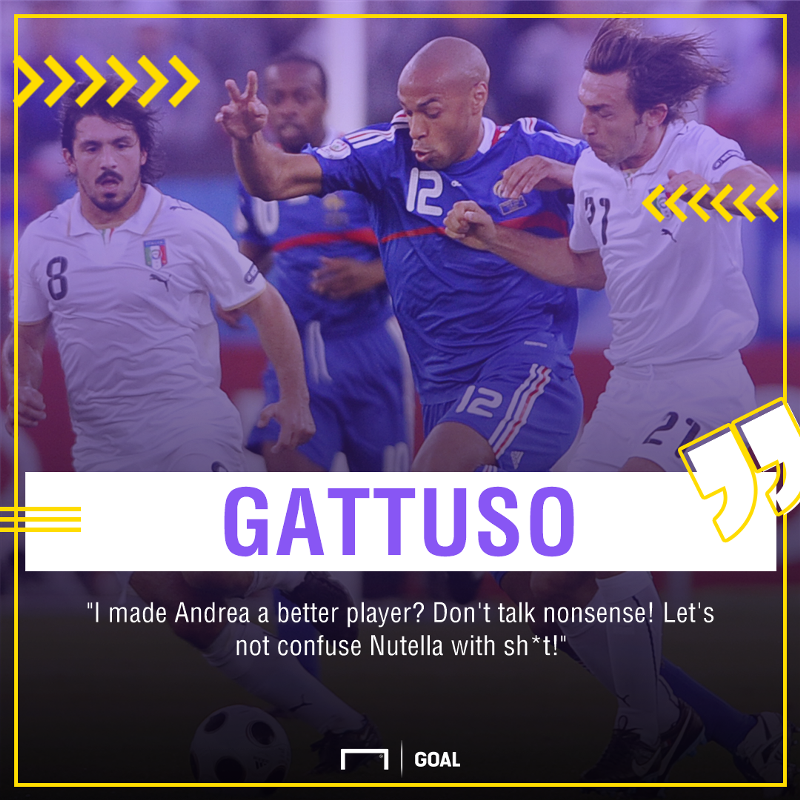 The World Cup winner had been working with the Rossoneri's Primavera squad and when he took the job in May, his goal was to learn from Montella - not replace him.
"I will listen to the advice that Montella gives me, as he's a great coach," the 39-year-old enthused.
However, taking charge of the Primavera was viewed as a step backwards for Gattuso, whose coaching career up until that point had hardly been impressive.
He had lasted just over three months in a player-coach role at Swiss side Sion in 2013 before being sacked after just six Serie B games in charge of Palermo.
He then tried his luck in Greece with OFI Crete but the club were blighted by financial problems and he had already resigned once - only to reverse his decision the following day - before walking away for good in December 2014.
Gattuso had claimed that there wasn't even enough money to feed the players but he also lashed out at his charges during one Giovanni Trapattoni-like press conference in which when he demanded that they "play with balls".
Gattuso fared far better when he returned to Italy the following year to take over Pisa, whom he led back into Serie B courtesy of a Lega Pro promotion play-off win over Foggia in June 2016.
He resigned just a month later, citing financial issues with the club, but he once again performed a dramatic U-turn, returning as coach in September 2016.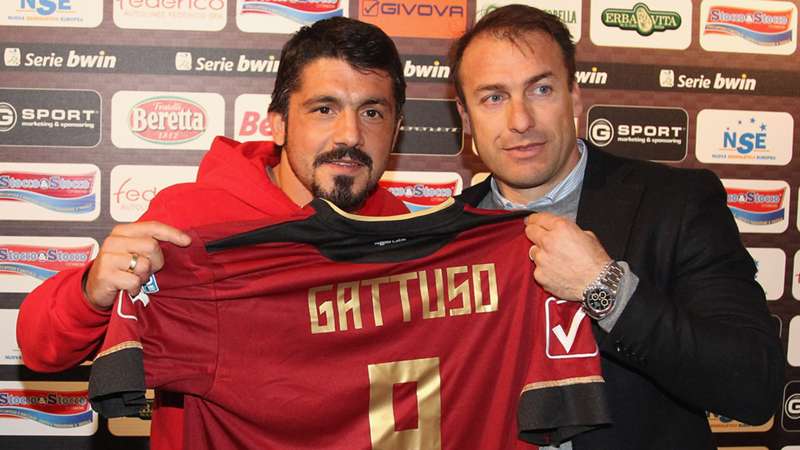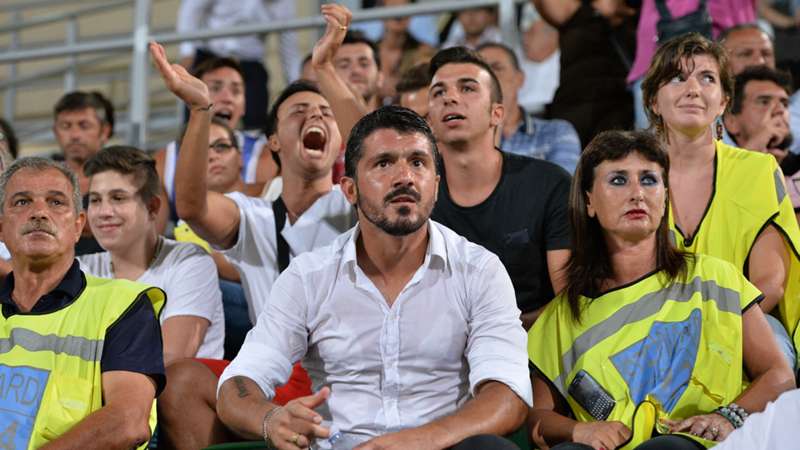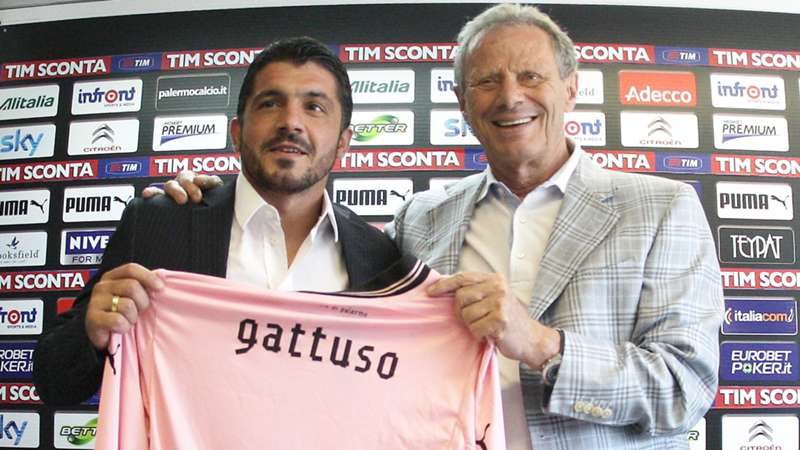 Pisa's money problems hadn't gone away, though, and they were docked four points for financial irregularities during a campaign that ended in relegation.
It was at this point that he decided to return to his spiritual home by taking the Primavera role with Milan. "It is not a step back," he insisted in May. "I think it's the right choice."
Whether he is the right choice for the top job, though, remains to be seen.
Directors Massimiliano Mirabelli and Marco Fassone were certainly impressed with what they had seen from Gattuso during his short spell with the Primavera, while his is a popular appointment among fans desperate to see more passion on the pitch.
He should be well respected by the players but there may also be some fear there, as this is not a coach who ever holds back.
Indeed, he once argued, "Always protecting the players is not good." He preaches tough love and it has worked well for him, on occasion.
Certainly, Juventus star Paulo Dybala credits Gattuso with toughening him up by constantly kicking - and even punching - him during training sessions at Palermo.
"He used to give me advice on how I had to position myself to dodge the blows," the Argentina international later explained.
"In more than one practice session, he would kick me just to teach me how to defend myself. Gattuso helped me a great deal."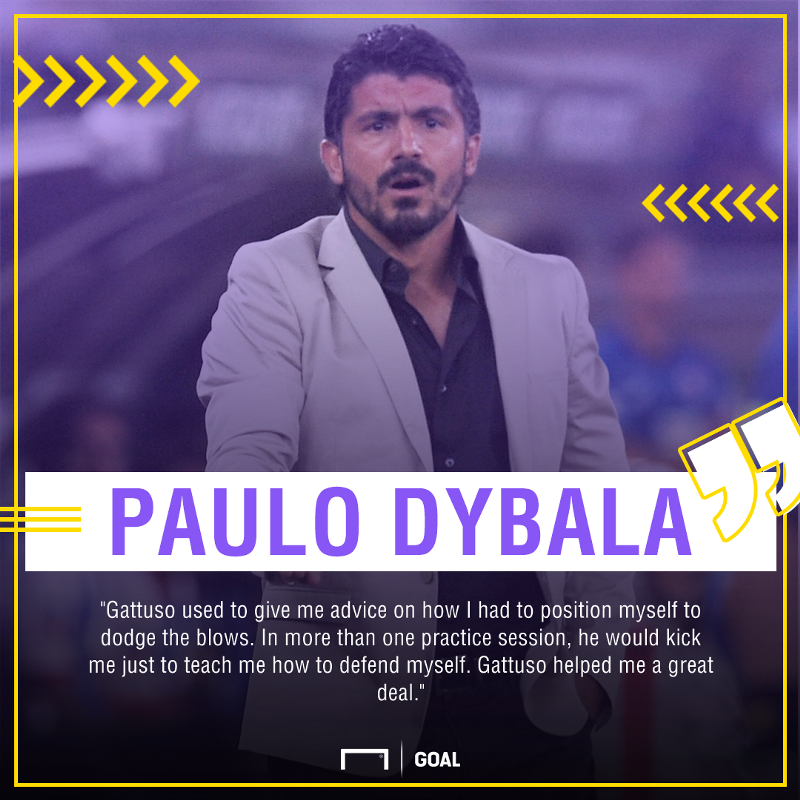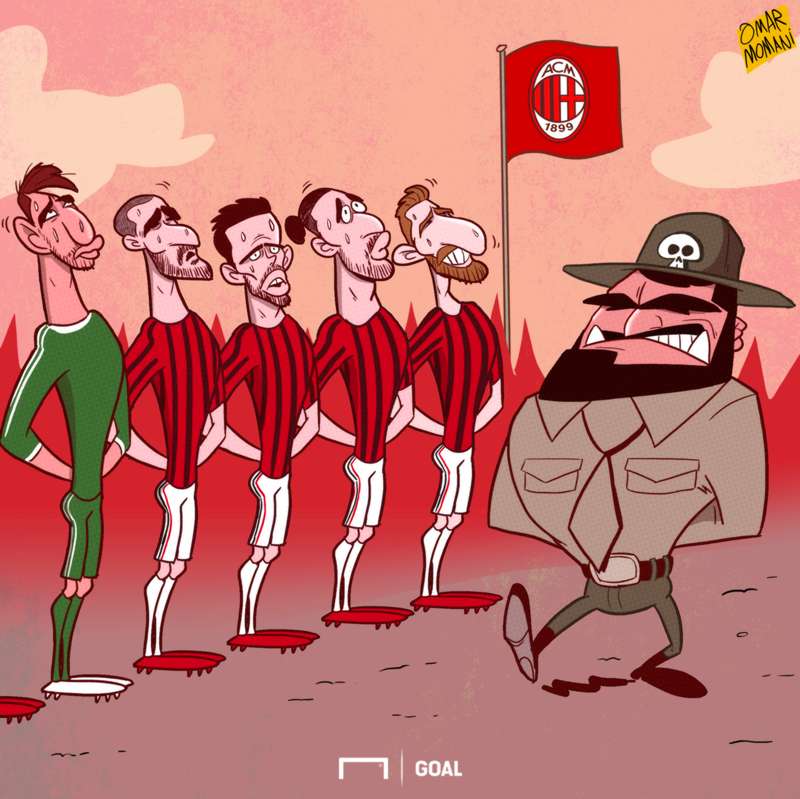 A more nuanced approach will likely be required at Milan, who have now had seven coaching changes in the past three years.
Hiring a volatile character like Gattuso in such an era of instability certainly doesn't seem like the wisest move; akin to bringing a blowtorch to a fireworks factory. However, he does know the club and, more importantly, he knows their failings.
"Milan are like UNESCO, whereas Manchester City and PSG have no history," he told Gazzetta TV two years ago. "However, one notes that there is no planning [at Milan].
"It's important to speak clearly with the fans. They talk about youngsters but then the youngsters are loaned or sold.
"Also, in our dressing room at Milan, we respected the rules. The current Milan lack that.
"Milan must try, first of all, to find real men. But I know that it's not enough to be a great player to be a coach.
"We must make mistakes in order to learn but these days, you must be credible. The players don't wait around.
"They want to see if you know what you are doing. If you mess up once, you're dead."
Essentially, when it comes to coaches, players can tell the difference between Nutella and sh*t. Gattuso won't last long at San Siro if he turns out to be latter.