Super League
Nurshamil wants to stay beyond 2017 at the Red Giants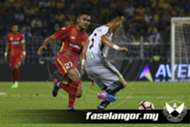 ---
BY        ZULHILMI ZAINAL       Follow on Twitter
---
Melaka United striker Nurshamil Abd Ghani has had a challenging time ever since his arrival at Selangor as a loan player at the start of the season.
Despite having emerged as the FAM Cup (then FAM League) top-scorer in 2015 and helping the Mousedeers win the competition and promotion to the Premier League, in 2016 Nurshamil was largely sidelined by the side in the spectacular season, which saw them win back-to-back league titles and promotions.
Although Melaka were promoted to the 2017 Super League, around a week before the season began it was announced that Nurshamil would be joining the then cash-strapped Red Giants on a season-long loan deal.
But until now, the 22-year old has appeared only four times for Selangor, three of those as late substitutions, without having found the back of the net yet.
Against Sarawak last Tuesday, Nurshamil came on in the 70th minute as replacement for Juliano Mineiro, and almost made an instant impact just a minute later, when his header off a corner kick slammed into the near post. That was the closest he would come to scoring in the match.
After the match, Goal spoke to the young striker about his current stint with Selangor, his chances and also the possibility of a permanent stay.
According to him, the lack of playing time has impacted his performance, although he admitted that he needs to prove himself more to the Selangor head coach, Maniam Pachaiappan.
"I'm struggling somewhat due to to the lack of playing time, in terms of my fitness.
"I have talked the coach into giving me more playing time, and God willing I will prove myself.
"He (Maniam) told me to give more to the team as a backup striker. Due to all that's going on with [Liberian striker] Forkey Doe, it's down to me and Afiq [Azmi, Selangor's other backup striker].
"Maybe my time will come now, and the coach has told me to show me my best," he explained.
Despite the lack of playing time he is getting now, when asked about the difference in between his time at Melaka and his current stint at Selangor, Nurshamil said that he is getting more chances with the Red Giants.
"At Melaka, I could not see myself being picked for matches by the coach.
"But I get more chances at Selangor, especially because I have played for the Selangor state team in the 2012 Malaysian Games, and they are already familiar with my abilities," he pointed out.
Lastly, Nurshamil told us that he would not rule out extending his stay or even signing a permanent deal for the Red Giants, if the opportunity presents itself.
"That is slightly out of my expectations, but if Selangor need me, I will stay for the sake of my experience and career," answered the forward when asked by us.