WTF
Nike football: Great adverts, current player roster & latest boots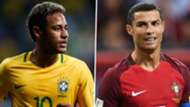 Over the past two decades and more, sportswear giant Nike has shown tremendous creativity in showing off their brand and products in football.
By marrying the appeal of the greatest footballers in the world with high-level production, the corporation has become synonymous with a certain style of football.
Speed, skill and success are the message in their advertising, but they also have fun with it, setting their vision of the game in an upbeat light.
Goal takes a closer look at some of Nike's football adverts, the star players they are associated with and some of their latest products.
---
Nike football ads
---
In the 1990s, Nike brought out a number of memorable advertisements featuring footballers, fantastic concepts and catchy soundtracks.
The 1996 'Match in Hell', in which a slew of the game's then-current stars took on the Devil and his demonic football team, kicked things off in the brand's unique series.
The likes of Luis Figo, Paolo Maldini and Ronaldo form a team expected to save the beautiful game in a match that culminates with Eric Cantona's nonchalant utterance of "au revoir" as he blastes a flaming ball through the Devil to rescue the day.
Around the time of the 1998 World Cup another Nike advert captured the imagination of football fans as the Brazil national team kill boredom in an airport by playing an impromptu game filled with tricks and flicks. Fittingly, it was amplified by Sergio Mendes' 1960s song 'Mas que Nada', which has become synonymous with 'Samba football'. 
And in the 2000s, they really set themselves apart from competitors with a series of brilliantly produced efforts. In the early part of the decade, Louis van Gaal led a crack team of skilled footballers to a high-security complex to retrieve a special ball that was said to be "rounder". 
A few years later, long after his retirement, Cantona returned as the man overseeing a high-stakes underground tournament featuring three-man teams, including the likes of Thierry Henry, Roberto Carlos and Ronaldinho. A remixed version of the Elvis Presley song 'A little less conversation' was the soundtrack and the concept was revisited a number of years later in a winner-takes-all bout.
Skilful footballers performing freestyle tricks figured a lot in the ads and the idea of Joga Bonito (meaning 'Beautiful Game' in Portuguese) was explored in a series of ads featuring the Brazil national team, recalling the 1998 effort. The Portugal national team, with the likes of Figo and Cristiano Ronaldo, even became involved.
Director Guy Ritchie was involved in a famous Nike football ad depicting the meteoric ascent of a non-league player to the very summit of the game. The short film is shot entirely from the viewpoint of the footballer as he climbs the ladder to success, fame and glory.
Some films have incorporated Nike athletes from other sports and NBA star Kobe Bryant featured in an ad that focuses on the narrow margins between success and failure, showing the different fates that await stars should they score a winning goal, for example. In it, Wayne Rooney becomes a hero for England, while Cristiano Ronaldo's path - foreshadowing reality - brings a gigantic statue and a feature-length movie.
Fast, fierce, fearless. It's in their DNA. A select few have it. The rest have to deal with it. Fast by nature. #BornMercurial @Cristiano @neymarjr @KMbappe @marcoasensio10

Get notified: https://t.co/45SwifKvcE pic.twitter.com/3eNvi4RVDp

— Nike Football (@nikefootball) February 7, 2018
Generally speaking, the Nike ads air ahead of major tournaments or events, but they have also produced slick films to promote their latest releases, such as football boots. While they are not always as elaborate, funny or fantastic, they still possess that star quality and show their products in an alluring light.
---
Nike football roster
---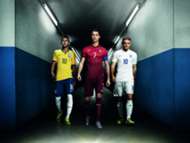 As one of the biggest sports brands in the world, it is not surprising that Nike is associated with some of the best footballers on the planet.
Chief among them is five-time Ballon d'Or winner Cristiano Ronaldo, who has long been the face of the football strand of the corporation, but the Real Madrid superstar is supported by a supremely talented cast too.
Other current Nike football ambassadors and sponsees include Neymar, Alexis Sanchez, Kylian Mbappe and Harry Kane. The likes of Luka Modric, Christian Pulisic and Robert Lewandowski also feature among the illustrious billing.
You can see some of the top footballers who are currently on their roster in the table below.
| Player | Country | Club |
| --- | --- | --- |
| Gonzalo Higuain | Argentina | Juventus |
| Mauro Icardi | Argentina | Inter |
| Kevin De Bruyne | Belgium | Man City |
| Eden Hazard | Belgium | Chelsea |
| Philippe Coutinho | Brazil | Barcelona |
| Neymar | Brazil | PSG |
| Alexis Sanchez | Chile | Man Utd |
| Arturo Vidal | Chile | Bayern Munich |
| Harry Kane | England | Tottenham |
| Raheem Sterling | England | Man City |
| Alexandre Lacazette | France | Arsenal |
| Kylian Mbappe | France | PSG |
| Jerome Boateng | Germany | Bayern Munich |
| Mario Gotze | Germany | Borussia Dortmund |
| Leonardo Bonucci | Italy | AC Milan |
| Lorenzo Insigne | Italy | Napoli |
| Robert Lewandowski | Poland | Bayern Munich |
| Cristiano Ronaldo | Portugal | Real Madrid |
| Andres Iniesta | Spain | Barcelona |
| Sergio Ramos | Spain | Real Madrid |
| Christian Pulisic | United States | Borussia Dortmund |
---
Notable former Nike footballers
---
As already mentioned, Nike has a long history of sponsoring and working closely with the world's best players.
Manchester United legend Eric Cantona figured prominently in ad campaigns during the 1990s and 2000s along with Brazilian stars such as Ronaldo and Ronaldinho.
Italy hero Francesco Totti and the unmistakabale Edgar Davids were also heavily involved in promotions.
Below you can see some of the biggest names Nike has worked with in the past.
| Player | Country |
| --- | --- |
| Ronaldo | Brazil |
| Ronaldinho | Brazil |
| Roberto Carlos | Brazil |
| Romario | Brazil |
| Paul Scholes | England |
| Ian Wright | England |
| Eric Cantona | France |
| Thierry Henry | France |
| Fabio Cannavaro | Italy |
| Paolo Maldini | Italy |
| Francesco Totti | Italy |
| Hidetoshi Nakata | Japan |
| Edgar Davids | Netherlands |
| Ruud van Nistelrooy | Netherlands |
| Luis Figo | Portugal |
---
Latest Nike football boots
---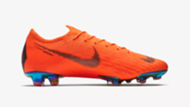 Nike's sponsorship of the world's best footballers is an ideal vehicle through which they can show off their latest equipment and football boots in particular.
For example, back in 1998, Ronaldo's status as the best player in the world was capitalised on as Nike launched a new boot design - the R9s - in time for that year's World Cup.
Since then, players have naturally been central to the promotion of new footwear and in February the latest designs were launched at a party featuring a cluster of their roster.
The Mercurial range is arguably the most well known of Nike's football boots and the latest offerings are the Mercurial Superfly 360 and the Mercurial Vapor 360, which became available to buy on Valentine's Day.
On the official Nike website, the Superfly 360 are priced at £229.95 ($275) and the Vapor 360 is slightly cheaper £209.95 ($250).
Some of the other recent offerings include the Hypervenom, the Magista and the Tiempo ranges.