West Ham United
Moyes to be offered six-month West Ham deal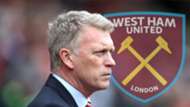 David Moyes is being lined up to replace Slaven Bilic as West Ham manager for the rest of the 2017-18 season.
A 4-1 thrashing at the hands of Liverpool seems to have been the final straw for the club and Bilic, with the Hammers sitting just above the relegation zone heading into the international break. 
Goal understands   the club have made their decision to move on and are lining up former Everton and Manchester United boss Moyes as his replacement. 
Moyes will be offered a six-month contract by the club, with Phil Neville set to join up as part of the back-room team and possibly as the assistant manager. 
Asked if he'd be surprised if West Ham sacked Bilic, Sam Allardyce said on  Match of the Day:  "It wouldn't surprise me because there were rumours not so long ago that Slaven had two games or three games, and I think that no contract extension in the summer, in his last year of his contract, so it all pointed out to the first 10 games for Slaven were the most important, and he knew that."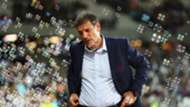 For his part, Bilic seemed to see the writing on the wall after getting trounced by Liverpool. 
"I have to talk to the chairman because, of course, we have to discuss this defeat," he told BT Sport . "It's not the first one. It's the second in a row at home.
"It's a very difficult situation. That's for me. That's all I can say now.
"I always believe in myself. I wouldn't be here otherwise. It's hard for me to talk about [the future] now."
The timing of the move would not be a shock, with the club having the international break to allow the new manager to settle in before returning to Premier League play with a match against Watford on November 19.