Premier League
Mourinho: Pressure of Arsenal match too much for Mkhitaryan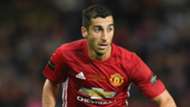 Jose Mourinho has confirmed that Henrikh Mkhitaryan will play in Manchester United's clash against Feyenoord while revealing why the Armenia international was left out to play Arsenal. 
The former Borussia Dortmund star has barely featured in Mourinho's team since moving to Old Trafford, and was again a spectator in Saturday's 1-1 draw. 
Sweden plan Ibrahimovic statue
But the manager announced that he will get his chance in Thursday's key Europa League fixture. 
"I told him [on Saturday] that he is going to be involved in the game against Feyenoord. He is trying," he explained to reporters.
"Obviously he is not happy but he is transforming his frustration in a good way, which is to close the mouth, work hard and try to adapt."
According to Mourinho, the weekend's Premier League clash was not right for the Armenian's talents - and he apparently had no qualms in telling his charge just that. 
"I told him 'this was not the game for you' because I don't think he needs 10 or 20 minutes from the bench," he said.
"I said 'I think you need a good game and you need to either start or, if not, to come for the second half'. He needs less pressure and better conditions for him to express his qualities."
United currently lie third in the Europa League's Group A, and need a win to move back into contention for the knockout stages.