Manchester United
Mourinho is out of excuses and should expect to be sacked - Ince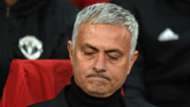 Jose Mourinho has run out of excuses at Manchester United and should expect to be sacked after taking the club backwards, believes former Red Devils midfielder Paul Ince.
The Portuguese enjoyed a productive debut campaign in the Old Trafford hot-seat, with three trophies collected in 2016-17.
He was, however, to end last season empty-handed before taking in a disappointing summer transfer window and a testing start to his third year at the helm.
Questions are being asked of his ongoing presence, with United having offered little in their latest Champions League outing against Juventus, and Ince believes there could be few arguments if another change in the dugout is made.
The former Red Devils midfielder told Paddy Power News: "It looks to me like Jose Mourinho is stuck between the devil and the deep blue sea.
"Realistically, he wants to play defensively and nick a one nil win, but he knows that the fans and players at United won't accept that. And they're right not to.
"We're three seasons into Mourinho's reign now. There are no more excuses. You've spent a lot of money, if I was managing a team and they'd given me three years, and it was clear we weren't up to standard, I'd expect to lose my job."
Ince added, with Mourinho accused of having fallen behind a number of Premier League rivals: "Are we getting to the stage where United just aren't good enough? Yes. They're slipping too far behind, and can't compete with the best sides anymore.
"They're not even showing signs of improvement. In fact they're going backwards. He bought Fred who can't get a game, and the same goes for Alexis Sanchez. He's disappeared! His career has gone backwards.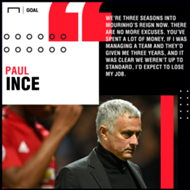 "I can see why there's been criticism of the board. But, in their defence, you can't go and spend £50 million on Fred just to stick him on the bench. You can't keep getting away with it and expect not to be questioned.
"Mourinho is too focused on what the opposition are doing. Focus on your own team, instead. Your players look completely scared, they have no confidence at all.
"The sad fact is United have no presence any more. Liverpool do, Man City clearly do, even Chelsea in such a short time are showing what they're made of. Why after three years are Manchester United still trying to find a winning formula under Mourinho?
"They're trying to find a remedy, the right personnel and a style of play, and it's failing. With Jurgen Klopp, you know the direction his team are going in. You can see what they've been working on in training all week. With United, they look like they don't have a clue.
"The players don't know what they're doing. It's more of a case of go out, hope we get a result, see what happens. I'm not disputing they've got some incredible talent, but from what I'm seeing they don't know how to play together."
Things are not about to get any easier for Mourinho either, with United's fixtures through to the next international break set to see them face Everton, Bournemouth, Juventus and Manchester City.
They are currently sat 10th in the Premier League, with just four wins collected from 10 games so far, while they have dropped five points in their last two European outings.