Chelsea
Mourinho is a better manager than me and he is still 'The Special One', says Maurizio Sarri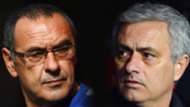 Maurizio Sarri says that Manchester United's under-fire manager Jose Mourinho should be considered the better coach after winning almost every top major honour throughout his career.
Chelsea are currently sitting in second place, just below champions Manchester City on goal difference, with the Red Devils due to visit Stamford Bridge on Saturday. 
The former Napoli coach has won promotion in the lower leagues during his career but never a major honour, as he targets success this season with his new club. 
Sarri thinks that Mourinho's record of 20 major honours means that he has proven himself to be 'the Special One', a reference to the Portuguese's famous proclamation at his unveiling in his first spell at Stamford Bridge. 
"The Special One is Mourinho," he said, before talking about his rival's influence in football. 
"The results speak for him. So, at the moment, he is better than me for sure. I hope to improve myself in the future, but at the moment I have to say he's better than me.
"I think he is different. I think that I have my character, and my character probably is different to his character. So I have to be myself, always. Otherwise I am not credible.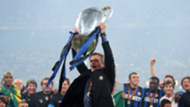 "He has won everything everywhere. So I need to win if I want to compare myself to him.
"[Mourinho's success] is not all just in the past - I think he will also be able to win in the future. He is really one of the best. Maybe the best. I think he will be able to win again.
"At the moment, it's not possible [to compare us]. You are talking about one of the best coaches in the world, and I'm not - at the moment - one of the best. 
"I'd like to win something because, at the moment, I need to win. I have won in Serie B, Serie C, Serie D like the Championship, League One and League Two here in England. 
"But now I need to win at this level."
The Chelsea boss came into football management at a late stage in his career after a period working in the banking sector, working his way up from the amateur leagues in Italy.
He eventually earned himself a chance at Napoli and repaid them by pushing Juventus all the way in a title race, where his side were unlucky to miss out on winning Serie A, despite earning themselves 91 points.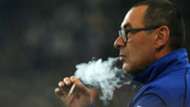 Sarri's success came long after Mourinho departed Serie A, where he won an unprecedented treble, and the 59-year-old thought he may never get the chance to face the Portuguese boss when down in the lower leagues.
"My target in that period was to be a professional coach. I didn't think that I was able to arrive at a Champions League club. It was incredible at that moment, so I think I am lucky. You need to be lucky.
"To be in the right place in the right moment. First of all, at Empoli, I had a very young team. The players were very young but very good. 
"I remember that we won Serie B with [Daniele] Rugani, who was 19. Elseid Hysaj, who was 19. [Riccardo] Saponara, who was 20.
"[Lorenzo] Tonelli was 21. Nobody knew them at that moment, but they were very good. So I was lucky."
Sarri has been receiving plaudits for his style of play and his ability to implement it quickly, as Chelsea transformed from their comparatively more pragmatic style of football under Antonio Conte and Mourinho.
Part of the criticism thrown at Mourinho is that many believe that his approach is no longer suited to the modern game, with other coaches at major clubs opting for a high pressing game where the aim is to keep possession.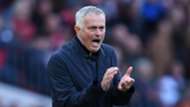 Sarri may not be playing the 'Mourinho way' but he is wary of Saturday's rival and how he will set up his team.
"The problem is not the way of football, if I like it or not. The focus is he is able to win," Sarri continued. 
"He has won everything everywhere, so probably that means he is right. Maybe they will play on us or maybe they will play their football. Because they can play their football. They are a wonderful team.
"I think that we need to expect everything because we have to play against a very strong team, and usually a very strong team play very well in important matches. So we need to be prepared to face everything."
The differences between Sarri and Mourinho extend beyond the systems they use on the pitch, with the latter coming across more softly spoken than his opponent on Saturday. However, according to Sarri there is one thing that they do have in common.
"The character is different, but maybe the level of determination is the same," Sarri said on whether he has what it takes to win as much as Mourinho. 
"But I think that, without determination, it's impossible to arrive here from a non-professional team. So I can speak very calmly, but I think my level of determination is the top level."