Manchester United v Arsenal
Mourinho has the Fury but Man Utd can't keep getting up off the canvas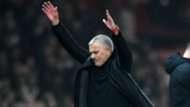 Heavyweight hero Tyson Fury watched on from the roped-off VIP section following his world championship fight against Deontay Wilder in Los Angeles on Saturday night.
Fury had to settle for a draw after being rocked out of his boots in the 12th round at the Staples Center but the fact he got to his feet and avoided the 10-count has burnished his reputation on both sides of the Atlantic.
Twice here Manchester United got themselves off the canvas very quickly after Arsenal had put them down there to salvage a 2-2 draw. Indeed the second goal – stabbed in by Jesse Lingard following an horrific mistake from Sead Kolasinac – was just as hard to believe as Fury's Undertaker tribute act.
Many Arsenal fans – who gave the United manager Jose Mourinho stick all evening – had not put their rear ends back on their seats following their celebrations of Alexandre Lacazette's equally messy goal which restored the visitors' lead.
At the moment that shot trickled past David De Gea, Mourinho was up, his long black coat trailing after him like Batman, and summoning the man for the 12th round; Marouane Fellaini.
United didn't need the big Belgian for their second equaliser. Arsenal may be without Arsene Wenger these days but their soft belly remains. Despite United's abysmal league form, there was always the sense that by brute force alone they might stay in the fight.
It was one of those game weeks which hinted at the frenzy to come over the festive period. Managers all around the league opted to rest players with the likes of Mohamed Salah and Raheem Sterling sitting it out.
A generous reading of the situation would dictate that Mourinho was doing something similar with Paul Pogba and Romelu Lukaku – the two most expensive signings in the history of the club. The fourth, Fred, was nowhere to be found.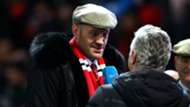 But that would be to ignore the news coming out of United this week of the bust-up between Mourinho and Pogba, and to ignore also the manager's programme notes ahead of the Arsenal game which stated : "There isn't space for people who are not ready to give it all."
That kind of language is not usually found among the platitudes on those pages. It is clear that Mourinho was sending a message with his team selection.
De Gea and Chris Smalling, meanwhile, were survivors of the 8-2 hammering delivered to Arsenal here during the Sir Alex Ferguson days. And it was those two who contrived to serve up the mistakes for Arsenal's opener.
Smalling lost Shkodran Mustafi in the box and De Gea delivered the kind of error he is not renowned for around these parts even if his form for Spain features more than his fair share of foul-ups.
There has been a perceptible drop-off in the goalkeeper's form though and that is problematic for Mourinho. So much of his original game-plan is clean-sheet dependent. For United to get a result – particularly against a top team – De Gea is key.
If he is going to start dropping clangers then United are going to be in more trouble than they currently are.
To be fair to De Gea he did go some way towards redeeming himself with two fine stops from Pierre-Emerick Aubameyang in the second half. One was a point-blank situation in which he has typically excelled himself. The other was a flying overhanded one from a long-range missile.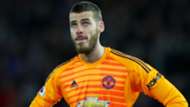 But United have already conceded more goals at home this season than in the entirety of last term. They have now fallen behind nine times in the Premier League. They've only played 15 matches. If they are going to realign their season, then something has got to change.
Mourinho tried to smother Arsenal from the off with the inclusion of seven defensive-minded players. There was a back five and two more holding in midfield. But still Arsenal had enough of a threat to break through. The gap between Premier League debutant Diogo Dalot and Eric Bailly was porous, and gave the likes of Kolasinac and Alex Iwobi the space they needed to thrive. United will be grateful that no lasting damage was done from that sector.
If Mourinho's first-half shape bewildered many reading the team-sheet, it had more of a conventional shape once his substitutes had been put on. Marcos Rojo was hooked for Fellaini immediately after his appalling error. Before that, the first United goalscorer Anthony Martial pulled up with an injury and Lukaku was summoned. Pogba wasn't used until no other options remained.
He did not grab the game by the scruff of the neck. Mourinho's high-profile dropping of him did not seem to jolt the response he has come to expect.
But that will remain Mourinho's way. He tries to shock his players into performing for him, either through criticism on television or in the papers, or else dropping them and demanding they do well when they come in.
It's not working.
Sure, it might feel good to grab another point from behind, but it might well be a pointless one. United are aiming for the top four at least and this leaves them eight points adrift.
When Fury had to fight back with it all on the line he did it. He roused himself from the land of nod and gained the respect of anyone watching.
When Mourinho does it? Not so much. United are not so much a work in progress; this might well be as good as it gets.