Real Madrid
Morata: Ramos' goalscoring antics like a fairytale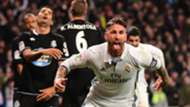 Real Madrid striker Alvaro Morata has hailed Sergio Ramos in the wake of the defender's late winner in Saturday's 3-2 La Liga victory over Deportivo La Coruna.
Ramos salvaged a draw for Madrid against Barcelona last week with a header in the dying minutes of the game, and he repeated his heroics at the Santiago Bernabeu versus Depor.
Ramos: Real will fight to the death
It capped a remarkable ending to a match in which Madrid were 2-1 down with six minutes to play.
"I could not believe Ramos' goal. Let's hope he continues to do it forever, it is like something out of a fairytale," Morata told the Madrid website.
"We are not going to go and win every game as we did this one, but let's hope he keeps doing it.
"I hope that Ramos continues to score late goals for many years to come and that those goals see us claim victories and hand us silverware. It is incredible and we just do not know how he does it."
Madrid's win saw them extend their unbeaten run to 35 games, a new club record, and Morata hopes they can carry their fine form into the upcoming Club World Cup.
"We are top of the league and we now go in search of the Club World Cup title to cap off a fantastic year for the club and us players," he added.
"I am really happy to be at Real Madrid and that it has happened whilst I have been here.
"However, it will not count for anything if we do not go on and win the LaLiga title. This run is very special, but ultimately we have got to win LaLiga or it will have been of no use at all."
The result sent Zinedine Zidane's side six points clear at the top.