Mexico
Mexico boosted by previous meeting with New Zealand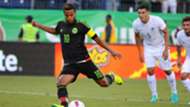 Mexico coach Juan Carlos Osorio reaped enormous benefit from a friendly match last year against New Zealand, getting game action against Wednesday's Confederations Cup opponent without even knowing the teams would meet this summer.
El Tri topped New Zealand 2-1 in Nashville in October, a month before the champions of CONCACAF and their counterparts from Oceania knew they were drawn into the same group of this tournament.
Lozano cherishing 'special' PSV move
At the time the match was criticized as another 'molero', a game that wouldn't serve Mexico at all. Both teams were preparing for the Confederations Cup during an international window in which it was difficult to find quality opposition and knew a summer showdown was possible, but that friendly now takes on increased significance and should serve as a boost for Mexico.
Osorio now has seen, up close and personal, all but nine of the players on New Zealand's squad after the All Whites brought as strong of a side as possible to the United States. While El Tri will want to approach this game with the knowledge that Anthony Hudson's squad could jump up and surprise them, they also can remember October's result — a hard-fought win against a New Zealand team with many of its top players.
Mexico, meanwhile, had the service of Giovani dos Santos (for the first time in the Osorio era), Hirving Lozano, Marco Fabian and Oribe Peralta. That attack quartet makes up the only players from the game against New Zealand even on the Confederations Cup squad and it would be a surprise to see more than two of them in Wednesday's starting lineup.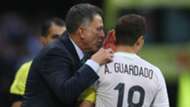 "We've studied all our opponents and we believe we have great possibilities tomorrow," Osorio said in a news conference Tuesday. "We think that New Zealand will think about playing direct. It's a very different opponent from what Portugal was, but complicated in the same way. We're thinking of moving our structure a bit, of refreshing the team to go out to compete and try to win the game using our strengths."
Hudson was candid in Tennessee about the level of his players and the difficulties of his team facing some of the world's best. The match against Mexico and a subsequent 1-1 draw with the United States was valuable and rare preparation for New Zealand, which is used to playing teams below the level of CONCACAF's best or even mid-tier teams from our region.
"We understand there's a big gulf in level between the two teams, so we just want to come away from this game and be proud of what we've done and have a strong performance," Hudson said before facing Mexico in October.
Tigres deny Gignac-Galaxy rumors
Obviously the game in Russia will be different than the friendly. Coaches love to tell us that every game is special, but Mexico's preparation should be easier and confidence should be boosted based on what they saw in in the fall. There's also the peace of knowing that the team is a better squad overall.
Carlos Vela, Hector Moreno and Jonathan dos Santos, European-based players who Osorio didn't call in the October window, are the three Mexico players in the best form and both goalkeeper Guillermo Ochoa and forward Javier "Chicharito" Hernandez had standout showings in Sunday's draw against Portugal.
Osorio's men are in a good place after opening the tournament with the point against Portugal, but getting all three points is obligatory for the team's hopes to get out of the group. New Zealand carries a 16-match winless streak in major FIFA tournaments, but the coach and his staff know from experience that they have players who can surprise. Thanks to last year's meeting and their careful style of preparation for all matches, Mexico should be able to extend the All Whites' frustrating run and situate itself for a spot in the knockout stages.