Arsenal
Merson: Arsenal are covering over cracks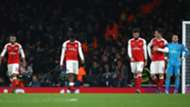 Former Arsenal forward Paul Merson says Arsene Wenger's class of 2016-17 are "covering over the cracks", despite being unbeaten since the opening day of the season.
Having suffered a 4-3 defeat to Liverpool back in August, the Gunners sprang into life by winning seven games in a row across all competitions in September and October.
Expectation levels around the Emirates began to rise as a result, with challenges for major silverware on multiple fronts carefully pieced together.
Arsenal are still to suffer a second loss of the campaign, but performances over recent weeks have done little to inspire confidence.
Three successive draws have dropped the north London outfit to fourth in the Premier League table, three points adrift of leaders Chelsea, while there is no guarantee that they will progress to the last 16 of the Champions League as group winners following a 2-2 stalemate with Paris Saint-Germain on Wednesday.
Merson believes the Gunners need to rekindle their early-season spark if they are to sustain bids for top honours at home and abroad, with it vital that November struggles of the recent past are not replicated.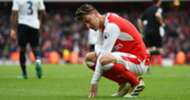 He told talkSPORT: "Everyone has been saying Arsenal have been great so far this season, but I think they've been covering over the cracks to be honest.
"Middlesbrough should have beaten them at the Emirates, they were 1-1 with about 20 minutes to go with Sunderland - who were rock bottom of the table and couldn't win a game for toffee - and got three late goals, then there was last weekend's game against Manchester United.
What we learned from UCL this week
"I don't think it's the end of the world - they've just drawn with a very good team.
"But I just think it's not as great as everyone has been saying at the moment at Arsenal.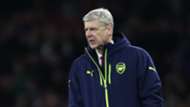 "It's true, when they haven't played well they still haven't lost, but that won't be good enough in the Premier League this season - there are too many good teams.
"I don't think they'll fade away, they've got too many good players to do that.
"But Arsenal haven't challenged for the title for quite a while, and to do that you've got to win football matches - draws are no good."
Arsenal came through a tough meeting at Sunderland with three late goals to secure a 4-1 win, but since then they have been held 1-1 in the north London derby by Tottenham, by the same scoreline at Manchester United and then by PSG in Europe.