NXGN
Meet Mason Mount: Chelsea's Lampard-loving loanee taking the Eredivisie by storm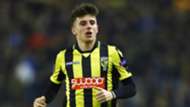 Mason Mount is not afraid to make difficult decisions. He was only a kid when presented with the chance to join Portsmouth, Southampton or Chelsea.
Pompey were his local team; his favourite team. They were the easy option. Southampton, meanwhile, were not only renowned for nurturing young talent, they were also nearby. Chelsea, by contrast, were based in London and the standard at Stamford Bridge was dauntingly high.
"When I went on trial at Chelsea, it was like a year ahead of me," Mount explains in an exclusive interview with Goal. "Their players were much better, the competition was much more intense and you could tell that it was different.
"It was a hard decision to choose Chelsea over my boyhood club, the team I grew up supporting and lived close to. But it was definitely the best decision that I have made. I think that was definitely the turning point for me.
"The improvement and development I made at Chelsea from a young age has turned me into the player that I am now."
Many English football fans may be unfamiliar with the name Mason Mount, and they won't catch him in the Premier League either as it's the Eredivisie where he has established himself as one of the most exciting young talents in the game.
After playing a pivotal part in England's triumph at last summer's European Under-19 Championship in Georgia, Chelsea's reigning Academy Player of the Year joined Vitesse on loan and his sensational form in Netherlands earned him a spot in the 2018 NxGn, Goal's annual list of the top 50 teenagers in world football. 
However, it hasn't all been plain sailing for Mount, who initially struggled for game time under coach Henk Fraser, and had to prove himself capable of performing at senior level.
"It has been a massive learning curve for me, coming from an academy to a professional league," he confesses. "At the start of the season, I found it hard because I wasn't playing as much as I wanted. I knew that would be what would happen because I came from the Under-19 Euros and I came in late. 
"It was hard, I sat on the bench when we played away at Ajax and it was very frustrating for me because I just wanted to play. It is hard to take, but that's football and that's what I learned from coming here. You have got to fight for your position."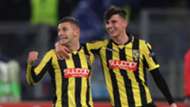 However, that's exactly what Mount did. He was restricted to substitute appearances until October and did not make his first start in the Eredivisie until November but, since then, he has flourished.
The Portsmouth native has racked up seven goals and four assists in the Dutch top flight, while he is ranked in the top 10 for key passes.
Indeed, Mount bucks the stereotype that English footballers are powerful but lacking in technique. He is quick, skilful, has great vision and a keen eye for goal, but he is also a wonderfully versatile footballer. 
Chelsea's youth sides won an unprecedented quadruple last season with Mount playing primarily as a No.10 but, at Vitesse, he has often operated in central midfield or out wide.
Mount's footballing father Tony played a massive role in him developing into an all-round attacker but the teenager is also a keen student of the game, revealing that he has been greatly influenced by watching the likes of Frank Lampard, Luka Modric and Andres Iniesta in action. 
"My goal is to play at the highest level I can," he explains. "To get to the top, that's the goal of every young football player. I want to play in the Champions League; that's the pinnacle of club football. I am working towards that. I am working hard in training every day to achieve that.
"I am working on my finishing. I want to score more goals and make more assists. That's definitely my target: make as many goals and assists as I can. I work on my finishing with my right and left foot, my corners, free-kicks and my all-round game.
"When I was growing up and playing for Chelsea, Frank Lampard is someone that I would always watch. He is a goalscoring midfielder. I was watching his games, his goals and how he arrives into the box. He is always in the right position, so that's something I try to look at and emulate.
"Also Luka Modric and Andres Iniesta; I think they are definitely top, top players. I always try to watch their games and take little bits from them.
"But I also work on the physical side. I am not a big physical player so I rely on my quick footwork and movement, but I think that's a side that I am working on. I want to get bigger and stronger."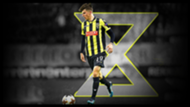 Chelsea are certainly thrilled with Mount's growth, with loan player technical coaches Eddie Newton and Paulo Ferreira having been hugely impressed by what they have seen from him this season.
He has certainly made a compelling case to be added to the Blues' senior squad this summer but, for now, Mount is just content playing regular football with Vitesse, revealing that starting against Lazio in a Europa League clash at the Stadio Olimpico was one of highlights of his career to date.
"That was definitely a moment I will remember for a long time," he enthuses. "I took a lot from it. You are playing in a massive stadium against a very big team; that's where I had to take my opportunity to show what I can do. I thought I played well. That's definitely one moment that stands out.
"The decision to go out on loan was talked about way before I came here but I think it was the perfect step to go to Vitesse. I think my dad and my family have been very happy with the choice I made.
"So, my focus is at Vitesse until the end of the season and then I will go back to Chelsea and we will see what happens."
He could stay in Arnhem or return to west London to try to break into the Blues' senior squad. It will be quite the dilemma.
Luckily, though, Mount is well used to making difficult decisions, and he usually gets them right.