Gianluigi Donnarumma
Marotta confirms Juventus interest in Donnarumma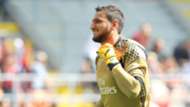 Juventus general director Giuseppe Marotta has confirmed Juventus are interested in signing Gianluigi Donnarumma from AC Milan.
Ronaldo should thank Real Madrid
The 18-year-old goalkeeper will not renew his contract with the Rossoneri , which expires in June 2018, having informed them of his decision this week after lengthy speculation surrounding his future.
Donnarumma has been touted as Europe's most promising young talent and Real Madrid, Juventus and Manchester United are all credited with an interest.
The Serie A champions are preparing for the loss of Gianluigi Buffon, who says he is entering the final year of his career, with Donnarumma the most likely to replace him in Turin as well as with the Italy national team.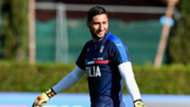 And Marotta has admitted Juve are tracking Donnarumma, but must decide if he is the winner they need.
"It's clear Juve have the right to study all opportunities," he told Corriere della Sera.  "When a player is on the market we have a duty to try to sign him, but not right now.
"He is a talent. Then we have to differentiate between a talent and a champion."
Although the Bianconeri may capitalise on Donnarumma's decision, Marotta believes the rules must change to prevent such battles between players and the clubs that produce them.
"It's increasingly difficult to manage these situations. We are facing a radical change in the figure of the young footballer," he said. "These days, professionals close to them plan out their career, even in opposition to the clubs which raised them. That's a fact.
"The rules need to be changed, and the efforts clubs make in the youth sector must be protected with some kind of compulsory apprenticeship."
The Putin protests overshadowing World Cup warm up
Juventus have been linked with some big transfers as they look to improve on a Serie A winning campaign and a Champions League final.
With Marco Verratti and Douglas Costa linked, Marotta discussed some targets.
"Thanks to Bayern, we are in contact for Douglas Costa's availability," he said. "But the Germans must be willing to sell him and the price must be right.
"Based on tactics and the investment needed, Verratti doesn't interest us."