UEFA Champions League
Man Utd can have Griezmann, Gameiro is Atletico's star man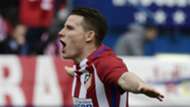 ---
COMMENT
---
When Cristiano Ronaldo lifted the European Championship trophy, Antoine Griezmann looked on. It was a familiar sight, as the Portugal and Real Madrid man had won the Champions League ahead of the French forward just two months previous.
Back home, striker Kevin Gameiro was forced to watch his country finish runners-up at Euro 2016. But at least he could console himself with his third Europa League medal, having bagged the equaliser in Sevilla's 3-1 win over Liverpool.
Barca's reliance on MSN could be costly
With PSG and then with Sevilla, Gameiro had proven himself to be a winner. He lifted the Ligue 1 trophy before moving to La Liga, going on to play in and win three successive Europa League finals.
He earned a €32 million move to Atletico Madrid where he would link up with compatriot Griezmann under Diego Simeone. The transfer also saw him return to the international fold, where he showed his goalscoring class with two goals against Bulgaria in World Cup qualifying in October.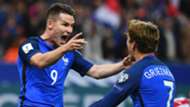 Missing out on Euro 2016 was disappointing for Gameiro, who feels he did not get the credit he deserved at Sevilla.
"I was a little forgotten this last while," Gameiro told RMC. "I've been at Sevilla for three years and I've managed to make a name for myself.
"It's true that Sevilla are not well publicised in France unfortunately - because they're really a very big club with history."
With Griezmann the star attraction at Atletico, he has sometimes failed to get the credit he deserves there too - despite having a better minutes-per-goal ratio than his colleague. Gameiro bagged a goal on his debut for the club, and despite having 10 La Liga goals to his name, has often found himself as a substitute rather than a starter.
Next season, that is likely to change with Griezmann expected to leave the club for Manchester United in the summer, with Goal revealing that the 25-year-old is the club's top transfer target.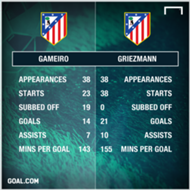 Atletico manager Simeone is aware of Gameiro's talents, having praised his impact off the bench against Deportivo La Coruna in September.
"Gameiro's entry was decisive," Simeone said. "Luckily it went well and he was decisive in the move that led to the goal. 
"He and Griezmann know each other. He has talent, speed and can take advantage of small spaces. We hope he will keep growing as a player."
Despite scoring the fastest La Liga hat-trick in 22 years last month in yet another cameo appearance, Gameiro was not given the full 90 minutes of the 4-2 Champions League last 16 win over Bayer Leverkusen four days later.
'Ramos wouldn't score in South America'
The 29-year-old scored in the first leg victory, but revealed his disappointment after being taken off with the game won.
"I was angry because you want to play the whole match when you're playing well," Gameiro told Marca.
"Today I was a little bit angry. This is football, where the coach decides and that's that."
It is this desire that makes Gameiro a winner. It is this desire that has seen him win three Europa League titles. It is this desire that means Atletico Madrid fans have no reason to panic when Griezmann leaves the club forever.