Transfers
Man City have the finances to buy Messi & Ronaldo - Fernandinho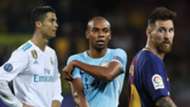 Fernandinho believes Manchester City have the financial might to sign Cristiano Ronaldo and Lionel Messi, but he does not feel such superstars fit into the club's philosophy.
City spent over £200 million in the summer transfer window, signing the likes of Kyle Walker from Tottenham, Bernardo Silva and Benjamin Mendy from Monaco and goalkeeper Ederson from Benfica.
Brazilian midfielder Fernandinho, who moved to the Etihad Stadium from Shakhtar Donetsk for a reported £34 million in 2013, knows that such sums being spent prove City's ability to secure the very best players in the transfer market.
However, he doubts that either Real Madrid superstar Ronaldo or Barcelona's maestro Messi would be pursued by the Premier League leaders.
"Could we sign Messi or Ronaldo? I guess so, but then you have to consider the club's priorities first. We have the financial power, everyone knows that, but there's the priority issue that must be considered," Fernandinho told Goal. 
"Are we aiming to sign one player or to assemble a strong, competitive team to achieve our goals? Sometimes people mistake some things regarding that, thinking just one player would make up for the needs of an entire club. Maybe it's not supposed to be like that.
"City have been working throughout the years to mount competitive teams and pursue titles. Of course, the club made some big and strong investments in the beginning, with top-level and well-known players, but the project itself is based on having a strong team, on developing a top academy structure to reveal new players.
"The City project is much more than about signing a single player with a strong name, that would eventually cost a lot more."
One example of such an investment is 20-year-old Gabriel Jesus, who cost the club a fee of £27m in 2016.
Jesus has since gone on to score a total of 11 goals in 16 Premier League appearances, and is widely regarded as one of the finest young strikers in the world.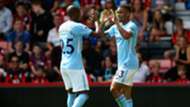 "With the market we're facing nowadays, not only regarding the Neymar deal but also the players that arrived in England this season, a market well-known for spending huge sums… for what Gabriel has shown back in Brazil and what he's been doing so far, I think he ended up being a real bargain for us," Fernandinho said of his compatriot.
"We are happy with that, because the club managed to pay little for a wonderful player with a huge future ahead of him, whose perspectives are the best possible.
"Somehow, Gabriel managed to be 'left out' of this transfer market madness we are all seeing nowadays."